On February 21, 1978 the day had finally arrived: after a complimentary breakfast from Mukut and saying goodbye to everyone, Frans and I were on the bus to the border town of Bhairawa. At breakfast, Tom passed a joint, and although I wasn't used to smoking so early in the day, I accepted it as a token of our friendship. As soon as we got on the bus, I was absorbed in the memories of our special time in Baidam, balancing myself as the bus turned bends left or right. When I looked out the window during a short stop, I was stunned to see familiar surroundings. Tom's joint hadn't missed its effect – although it felt we'd been on the road for an hour or so, we had only stopped at the Swiss Restaurant at the end of the road by the lake to let a few more passengers board!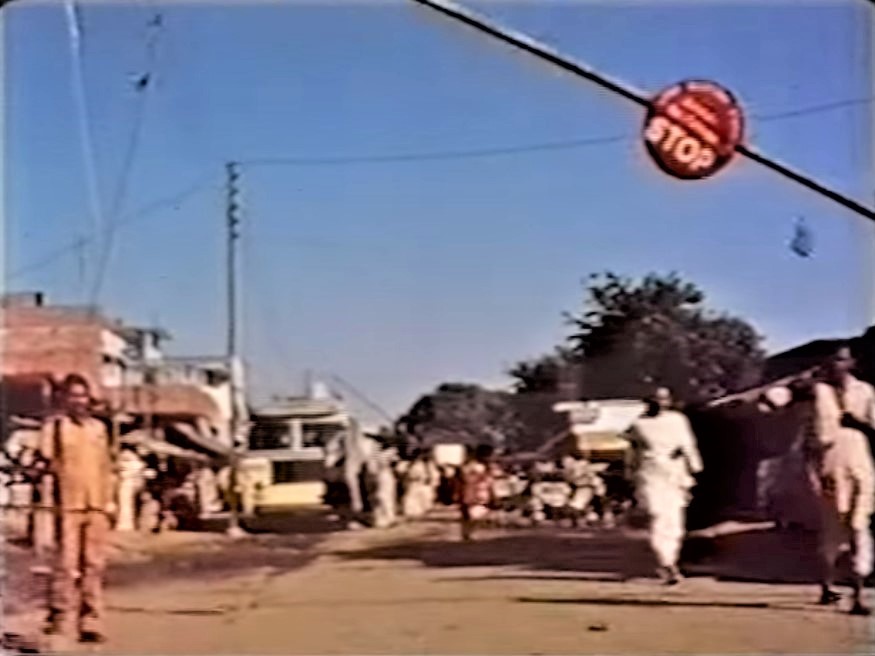 Border crossing at Bhairawa in 1978 (Image: TopDeck Travel)
Bhairawa is near Lumbini, the birthplace of Gautama, the fourth Buddha (revered by Hindus as the ninth incarnation of Vishnu) – on the border with India. From Sonauli, on the Indian side of the border, we had a very cheap and fast taxi to Gorakhpur, where we boarded the train to New Delhi. As chaotic, busy and dirty as we found India, one thing was unsurpassed: when you bought a cup of tea on the train from the sellers who walked up and down the platform shouting "Chaieeee!" it was served in a single-fired clay cup, which you could just throw out the window after finishing your tea. In later years plastic cups supplanted the traditional ways, but during a recent stay in India I read about initiatives to go back to the old clay cups for environmental considerations.
On the train from Kanpur we had reserved seats to New Delhi and missing the familiar environment at Phewa Lake turned into missing the familiar faces of home, despite the fact that we enjoyed the company of a group of sympathetic Indian students in our compartment. I was actually feeling homesick and, despite the fact that I was tired of traveling, I was eager to start my return journey. If we made an effort we could be back in the Netherlands in a matter of two to three weeks.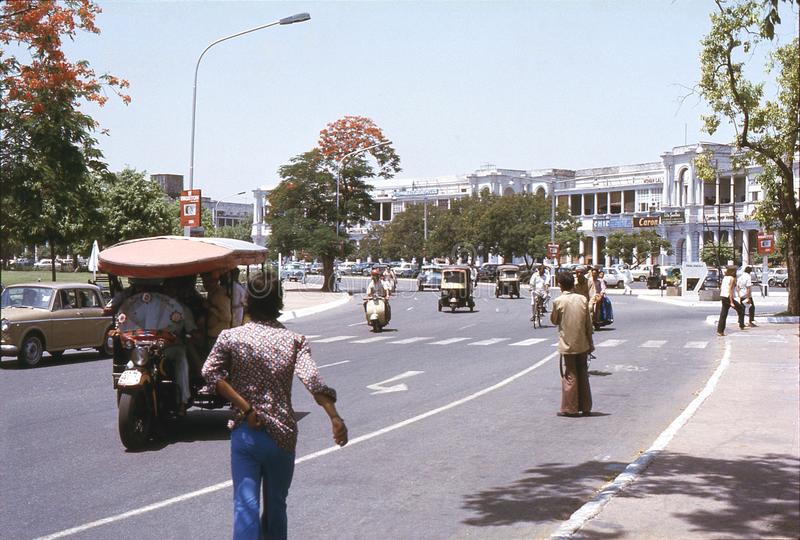 After arriving in New Delhi we spotted a van in Connaught Place that belonged to an English couple, Carl and Hillary, who were on their way home with their young son and daughter and were looking for people who needed a ride to Istanbul for 100 dollars. Frans and I thought this would save us a lot of hassle at border crossings compared to a regular bus with 46 passengers, so we decided to reserve our spot. Cor had promised to leave the money we had advanced him at the American Express office, but there wasn't even a note for us there. When we asked for the address of the Bank of America, Frans noticed a letter addressed to us lying on the counter. In it Cor wrote that he had flown back from Delhi to Amsterdam on January 24 and that he had wired Rs800 for each of us to the AE office in New Delhi, which we received without any further hassle.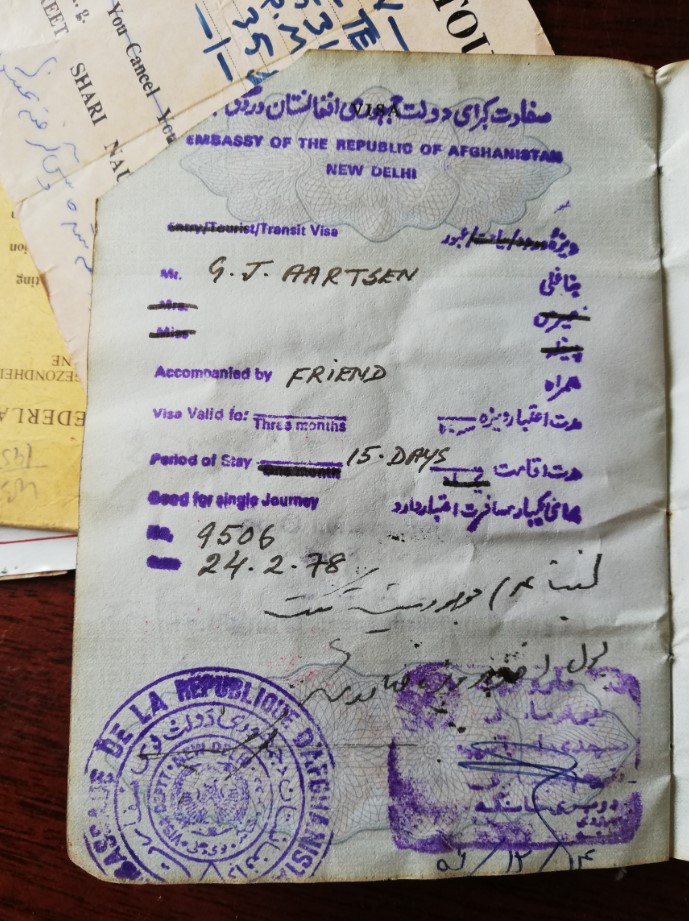 Until I read it in my notes, I had forgotten that on the evening of our return to New Delhi, February 23, we attended another concert by Sadao Watanabe and his jazz quintet, this time at the super-deluxe Ashok Hotel, where we looked completely out of place among the affluent Indian audience. The next day we joined Carl to the embassy to apply for a visa for Afghanistan which we were to collect two days later.
Frans and I spent a few hours each day in the park at Connaught Circus, hoping to meet Tom there. When we didn't find him there that day, we went to our hotel around 4:30 in the afternoon. There was a note from him with a phone number. That evening at 8 o'clock we sat as usual talking about the link between Hindu mythology, the books of Tom's favorite author Peter Kolosimo and the theories of Erich von Däniken, of whom I had bought a total of six titles during our journey, the last one in Kathmandu. By now I was traveling around with 13 books in my backpack!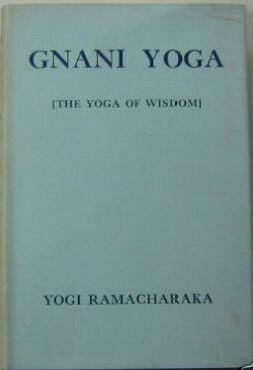 On February 27, the three of us went to the Jumbo Circus, which turned out to be a serious misnomer, but we had great fun regardless, or rather because of it. We spent the rest of the evening in Tom's room – the next day we were leaving for Amritsar. In his room Tom literally had a five foot stack of books that he had bought in the numerous bookshops around New Delhi, and he advised me to borrow Gnani Yoga - The Yoga of Wisdom from him for the road, provided I would return it by mail when I got home. A quick glance at the book taught me that it wasn't about different ways to tie your body in knots, but about the different stages in evolution of consciousness and the manifestation of Life, so I decided to borrow it.
On the day of our departure we had arranged to meet Carl and Hillary at the Tourist Camp where they were staying, and there we met Steven (from England?) and Roland (Germany), two fellow passengers. Before we left, Tom came to say goodbye over a cup of chai at the Ramble Restaurant with more stories about the universal notions of Eastern philosophy and the hidden meaning of religious teachings. As a novice seeker for answers to life's questions, I couldn't get enough of it, and Tom shared his extensive knowledge happily and generously.
At the border crossing, on March 2, it turned out that our driver Carl had sold his photography equipment (the value of which had been noted in his passport upon arrival in India) and because he had not reported it stolen, that explanation was not accepted and he had to return to Amritsar for a police statement. This meant we had to wait three hours at the border and because it was raining heavily Steven, Roland, Frans and I decided to take a taxi for Rs5 to Lahore where we would try to find shelter with Steven's sister, who lived in a nice neighbourhood with her husband and children. Unfortunately, we couldn't stay overnight, but we were welcomed with delicious coffee and cheese sandwiches. Steven's brother-in-law took us back to the center in a VW bus, and it felt like we'd been in Europe for a little while and then transported back to Pakistan.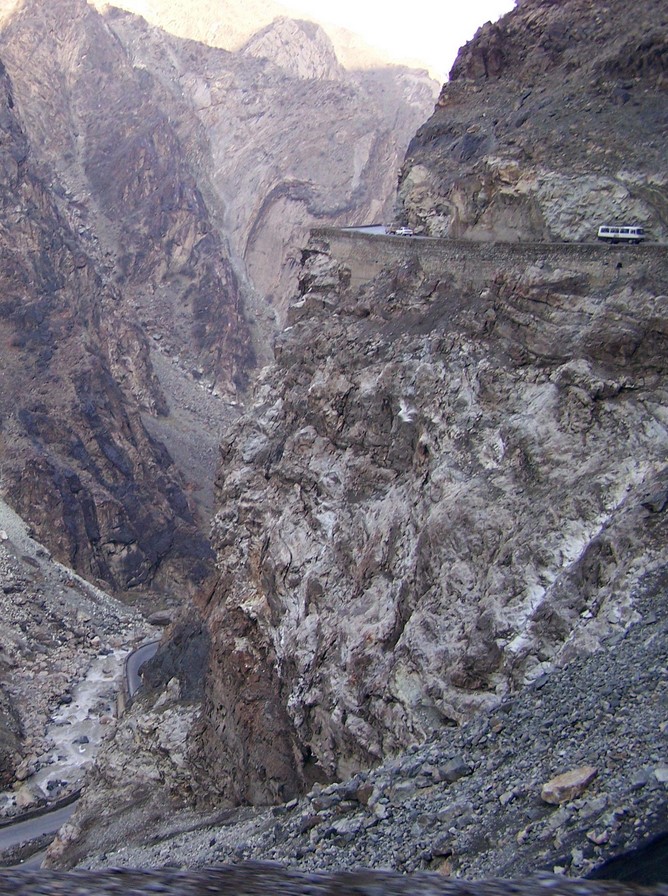 Carl's hustling and Roland's self-righteousness had been getting on my nerves since our departure from New Delhi, and the morning after our overnight stay at the New Chowhun Hotel I decided that I would continue my journey alone, since Frans didn't have a problem with their attitudes. Against my expectations I reached Peshawar in one day and at the Rainbow Guest House I was looking forward to the pancakes I ordered which, after an hour and a half, were served in the form of greasy slices of dough. Oh well.
The next day I bought a ticket for the bus to Kabul and cashed some dollars. As is often the case, this took some effort because local banks were very reluctant to part with their dollars. On the bus from Peshawar to Kabul, I sat next to the daughter of the Iranian ambassador to Pakistan and I read Tom's book on the yoga of wisdom. This was my first introduction to the notion that consciousness evolves through the successive kingdoms of nature and that the expansion of consciousness leads to ever greater understanding of life and identification with the Source, our divine spark. I now understood that my experience in Mathura in December must have been a taste of that.
The road through the Kabul Gorge (Photo: Sven Dirks/Wikimedia)
On March 5 I arrived in Kabul where the Eagle Hotel was under extensive renovation. Two days later, I bought a ticket to Tehran for US$35, but the next bus wasn't leaving until Saturday the 11th, which thwarted my plans to speed on homeward.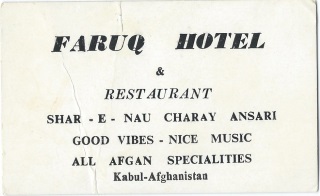 Due to the refurbishment of the hotel, I moved to Hotel Faruq for the remaining four days in Kabul, but like Nepal after India, Afghanistan after Pakistan was a peaceful oasis, despite the light snowfall. However, it was an extremely alienating experience when one day I saw a green van of a concrete construction company based in my home village (De Jong from Assendelft) driving around the city. For many years the business premises with the parked vans were a daily landmark for me as I did my morning paper round, and I really thought I'd lost the plot when I saw one of their vans driving around Kabul! I used my extra time here to write some final letters to family and friends and on Thursday I ran into Frans again, who had arrived here in the meantime.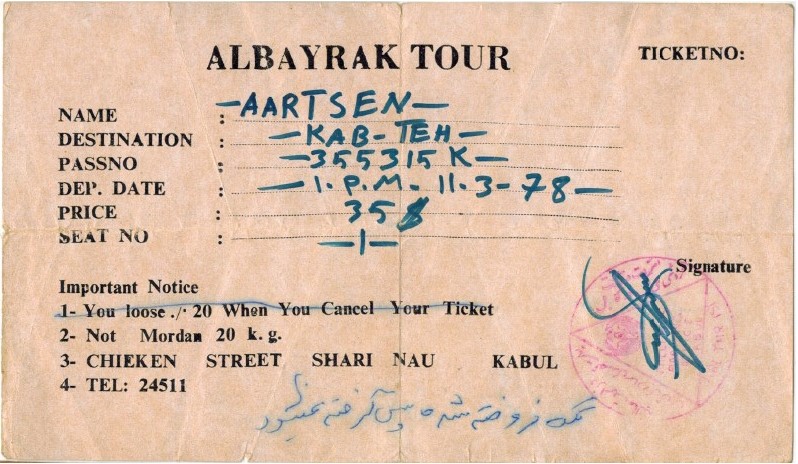 From Kabul to Tehran I sat on the bus next to Patrice, a young Swiss about my age who looked thin and pale. He seemed rather timid, but perhaps he was still dazed from his experiences in a Kabul prison and overwhelmed by his early release through the intervention of the Swiss Consul who had also given him money to travel home. He didn't really want speak about his experiences or seem interested in long conversations, and because I was still largely absorbed by the new ideas from Tom's book, we were a perfect match for a bus ride of several days. It seemed that only about a third of the passengers were Westerners who, like me, were on their way back and running low on money.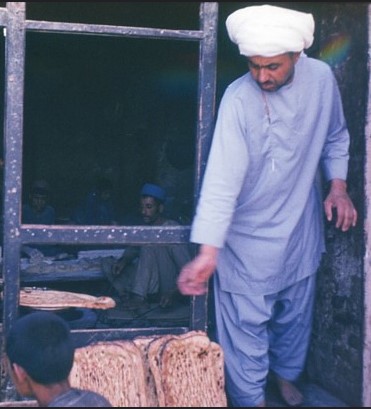 Bakery in Herat with the typical long flat breads (Photo: Colin Clews)
The bus was going straight to Tehran with two drivers, with food and sanitary stops of course. In Herat I bought two Afghan breads, which were not only tasty, but also easy to fold in half to stick in your shoulder bag for the road. This came in handy when our bus got stuck for half a day in a snow avalanche in the mountains of northern Iran. Once back on the road I got hungry and luckily I still had one of my breads. I took some myself and asked Patrice if he wanted some too, because he didn't have any money for food. When he wanted to return it after breaking off a piece, I passed it on to the passengers in the seats in front of us. Although that wasn't really my intention, they passed it on again to the people in front of them. As far as I could see my bread was gratefully received by several passengers, although not everyone took some, and it went around almost the entire bus. To my surprise, when it came back to me, the piece of bread seemed bigger than when I had first passed it on. That, or another passenger had decided to share their bread as well and it was their remaining piece that I put back in my bag when it came back to me.
After Kabul I no longer kept my diary, but from Tehran I had a bus the next day to Istanbul, where I arrived on March 16. The next bus to Germany left on March 18 and would pass through Bulgaria. Because I could hardly wait to get home, I decided to pay for the visa, and maybe it was cheaper in Turkey than in Yugoslavia, on the way there.
The bus ride through Bulgaria confirmed the image that existed in the West of that country as a penniless Soviet satellite – a large square in the capital Sofia presented a desolate sight in the early morning of March 19, with the only 'road user' being an old crooked lady sweeping up invisible street dirt. I also remember the beautiful Alps that I had never seen before and which – with a strange mixture of warm memories and sadness – reminded me of my time at Lake Phewa in Nepal, the sense of community there, and the Nepalese friends I left behind almost a month ago. For a long time I thought the bus drove through Switzerland, but more likely it was Austria.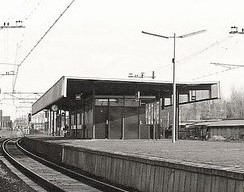 In the morning we arrived in Frankfurt, the final stop, where it rained and despite being a wet, long-haired backpacker who hadn't had a wash in days, I quickly got a lift from a Dutch businessman in the – according to him – latest Mercedes model who drove to Nijmegen in one go. While he was very interested in my travel adventures, he also left me alone with my thoughts from time to time. This forced me to rethink the negative image I had of my well-to-do fellow men that I saw confirmed in India (confused, much?). At the railway station in Nijmegen my last 25 guilder note was just enough to buy a one-way ticket to Krommenie-Assendelft and a pack of handrolling tobacco with papers. When I arrived home on March 21, 1978 after five months, I had Hfl 1.23 and some foreign coins in my pocket.
Krommenie-Assendelft railway station in 1977 (Foto: Peter Collet)
With apparent foresight, on January 11 I noted in my diary: "By the way, I suspect that the [real] adventure starts when you get home. You have changed in relation to your familiar surroundings, you have been away for a while, it is new here again, because you see things in a broader perspective and gradually the stories will come." What I hadn't realized was that the perspective of those who had stayed behind was still the same, so that after hearing my stories a few times, they returned to the order of the day. I wanted to share my experiences with others, but stories don't compare with the actual experiences. The reunion with family and friends proved rather a black hole in that respect.
Postscript
Those who travelled the trail from Europe to India and Nepal in the late 1970s had the advantage of the 'cart track' drawn by the early 'hippie trail'-ers – the guesthouses and restaurants in many places along the route where indispensable information and tips about hotels, embassy times, scams, and contacts were shared. But the adverse effects of that tourism on the lives of the locals were also clearly noticeable. Still, I consider myself fortunate to have made this journey in 1977-78, because even though in 2021 we have instant and continuous contact with each other via the internet and mobile phones, it seems that we are finding it increasingly difficult to really connect with the world around us.
Reconstructing my journey brought back many more memories and sometimes even faces than I expected, along with nostalgia or longing for the wonder I wasn't even aware of at the time. How I would love to make such a journey again, with the sense of adventure of my youth, but with the wisdom and life experience of the years. But is that even possible if life makes us pay for experience with our youth? Would such a journey still be possible today, with Google Maps, ATMs and Whatsapp? My journey set me on the path of discovery of my inner world, but are these kinds of voyages of discovery in the outer world still possible today?
During our trip we criticized the fat rich Indians who had no eye for the poor, the poor Indians who polluted their own environment, and arrogant Westerners who criticized whatever didn't match their own standards (look-at-yourself, much?) and who often also wanted the best deal from even the poorest slobs. It was an overwhelming experience, which you only realize afterwards because your view is not expanded all at once, but a little bit every day. In retrospect, though, we had a great time of this incredible experience and, as I recapture my memories, I feel a sense of deep gratitude for what, despite the relatively large numbers of fellow travellers, was a great adventure – if not always physically, then certainly psychologically. In the years that followed I went back to India and especially Nepal several times, boarded my first plane to visit Tim and Tom in Iowa in October 1978, and literally traveled around the world in 1979-1980. But never again did I experience the wonder of the voyage of discovery that was my first trip to Nepal.
April 2021
In closing:
Though often seen as 'harmless', hashish became a problem that I struggled with for many years before I finally managed to kick the habit in 1992. Two years later, I put out my last cigarette.
I recently got in touch with Cor again after 33 years, having last seen him at a party in 1988. He told me that Frans has been having serious health issues for many years.
The book Tom lent me put me on the trail, even in 1978, of what I now know as the Ageless Wisdom teachings, of which I have since amassed a modest library, that started with my own copy of Gnani Yoga. And while Von Däniken and Kolosimo's speculations had sparked my interest in extraterrestrial visitors they don't feature in my library, but it does feature a large number of direct eyewitness accounts, notably George Adamski's.
On my second trip (October 1978-March 1979) I spent two months at Tom's, near Iowa City, where he and Tim ran a shop selling Oriental furniture, jewelry, etc., called 'The Jewel of Kashmir'. On our goodbyes that time, Tom made me promise that if I ever heard about the Great White Lodge anywhere, I'd let him know. When I found information about it in the books of, among others, Alice A. Bailey and Benjamin Creme and wrote to him about it, I received no response and, as these things go, our contact dwindled after some time. And when I recently began looking for him again online, I sadly found the notice that he passed away in 2018 at the age of 68.
In 2013 and 2018, I was in South India for education conferences – the first in Kochi, Kerala State, the second in Whitefield, Bangalore, in Karnataka, for the 25th International Democratic Education Conference (IDEC 2018; photo), when I also saw part of Tamil Nadu. All those years after my first visit to India, the southern states showed me a completely different side of the country and its culture, which made me decide to go there on vacation in 2019, and after my retirement I would love to spend the winters in that part of the country.

Right: Me at IDEC2018, Whitefield, Bangalore (Photo: Private collection)