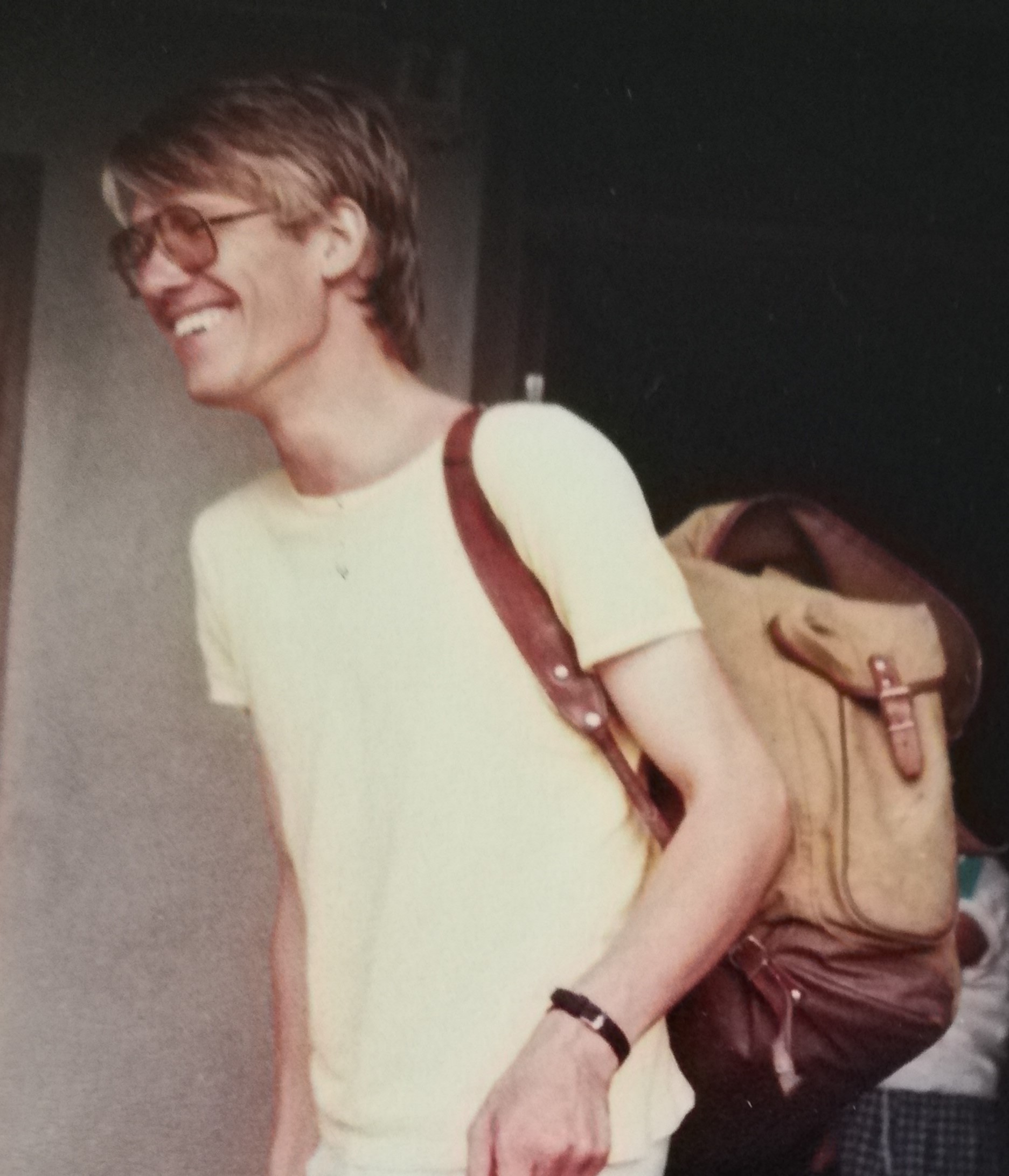 In a street just outside the bazaar in Istanbul I bought a great backpack for the equivalent of 25 guilders (seen here in a photo taken a few years later), that served me faithfully for a long time after my first trip.
On the advice of a guy from Haarlem who played in a band in Istanbul, we bought a bus ticket to Tehran at Batu Tur for 500 lira. On Tuesday November 1, we left for the 60-hour journey. After 1.5 days on bad roads with many wrecks along the way, we arrived in Erzurum, eastern Turkey, where we spent the night in a dirty little hotel for 20 liras (fl 2.25) each. As it was already dark on our arrival, we didn't want to go looking for another hotel because we had heard this part of Turkey was not very safe. The next day 20 Turkish passengers would join us on the bus, and we were not sure if we would still have seats. The limited legroom made the seats uncomfortable for me as it was, so that wasn't a good prospect.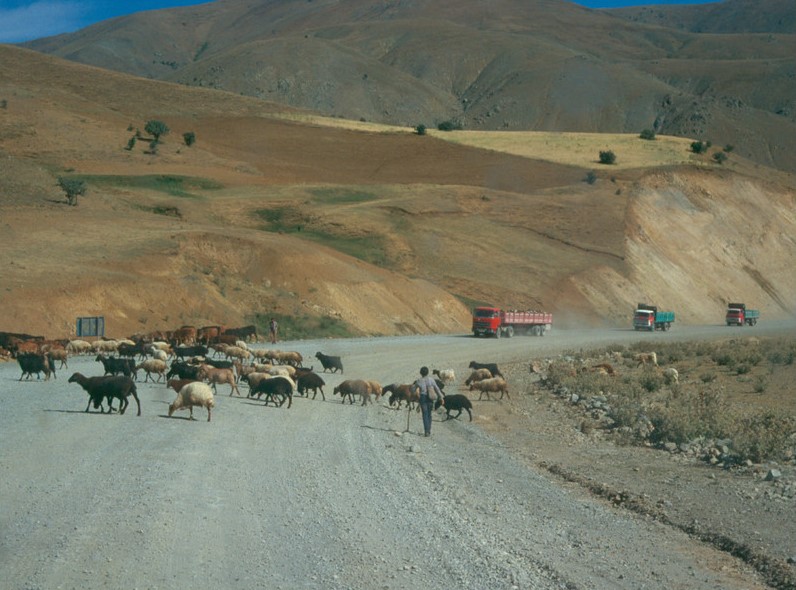 On the road to Erzurum, Turkey (Photo: Michael Zuther, 1978)
After another 1.5 days on the bus (seated!) we arrived, via Tabriz, in Tehran on November 4 at 1 o'clock in the afternoon. While eastern Turkey was beautiful, with a view of Mount Ararat from the bus to boot, the landscape across the border with Iran quickly changed into a barren desert, interrupted here and there by one of the Shah's prestige projects. According to Cor's guide, Amir Kabir was an affordable hotel, which turned out to be just as easy to find as the Pudding Shop in Istanbul, as it was just such a regular meeting point on the road to India. At the hotel I had bread with carrot jam, which tasted like pancakes with syrup. It turned out we could apply for a visa for Afghanistan in the eastern city of Mashad, so we headed there the next day.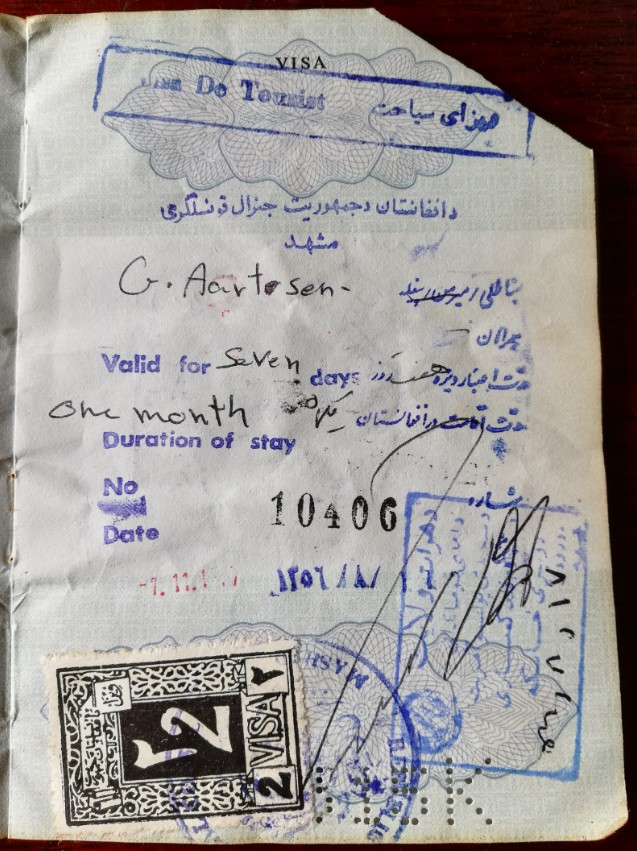 The bus trip to Mashad was very uncomfortable. We sat in the back of the bus where there was a strong draft on the window side near the emergency door, while on the aisle side the armrest was missing. In northern Iranian mountains it was too cold by the emergency exit to sleep and because of the winding roads you had to constantly keep your balance in the aisle seat so that it was impossible to sleep there either. The scenery, on the other hand, was beautiful.
One of the main inconveniences on the route from Istanbul to India were the filthy, smelly latrines where one relieved oneself after a meal or during a toilet break at a restaurant. I didn't understand how people could use the bathroom like that, and for someone with toilet shyness like me it's difficult to go when the sliding lock on the door is broken or – worse – the door is simply missing. Once, past Tehran, I decided to just wait for four hours until the next stop, even though I needed to go really badly.
Right: My visa for Iran
As early as Greece, Frans and I had discovered the convenience of biscuits on a bus trip, and Marie biscuits and Glucos soon became a regular part of our provisions, alongside bread, ftuits and whatever snacks we could buy through the windows on buses and trains. In Turkey I usually had a bean dish during stops, but at a certain point I had had enough of beans. Although I never liked eating meat since I was child, and since the roadside restaurants in Iran had few options, I had little choice but to order (saffron) rice with chicken every now and then – or else it would be mutton or goat kebab. After a few days I found the Iranian chicken quite tasty and I imagine I still miss it sometimes. During the stops we usually drank tea, sometimes a soda if it was available chilled, but I can't remember what we took with us on the bus other than our flasks. After all, the instant gratification that led to the plastic water bottle catastrophe with the fitness craze in the following decades was not yet very common. We were probably just thirsty until the next stop.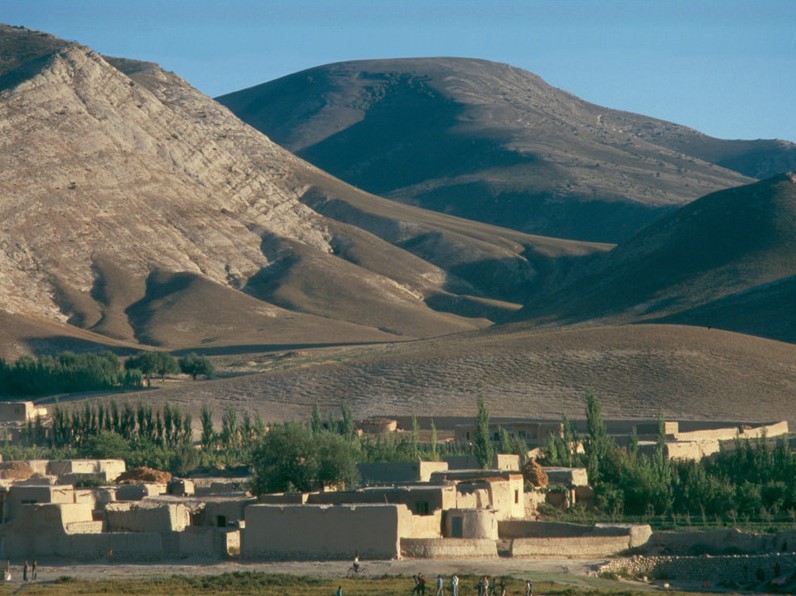 Along the way we regularly saw vans driven by Western travelers, sometimes with breakdowns, along the way. The buses we traveled on were not without their bouts of mechanical failure either. Often enough a tyre burst, petrol tanks regularly leaked, a wheel axle might break or an engine part broke, for which a new one had to be hauled from somewhere. As a passenger, the options were to wait without knowing how long the repairs would take, or to try and get a lift to the next city on top of a truck's load.
Between Mashad and Herat
(Photo: Michael Zuther)
When we arrived in Mashad, the Afghan embassy was already closed. Looking for a hotel, we were helped by a young Iranian who had to see someone on the way there. We met his "uncle" in a carpet shop who offered us tea and showed us carpets. Our objection that we were on our way to India was no problem as they could also reliably ship them home, just look at all these grateful acknowledgments from Germany and America. No carpets? Sure? Turquoise then? On the way to the hotel, Frans was offered to have tea somewhere (i.e. buy carpets) by another passer-by. The banks were already closed, but someone at the hotel knew where we could exchange money, which also amounted to an attempt to sell us carpets.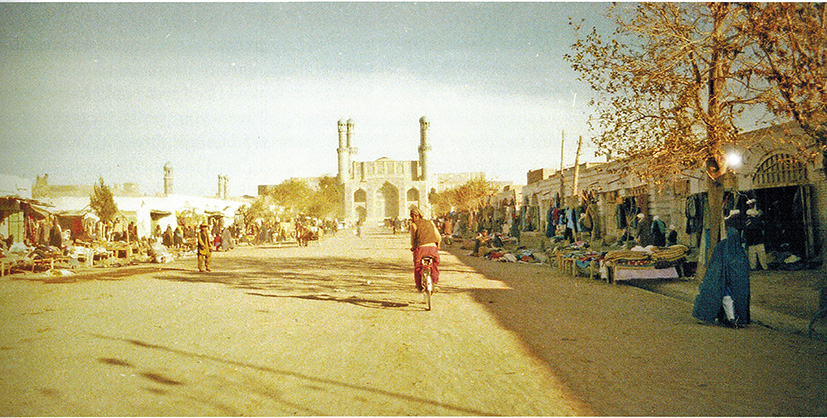 Tuesday morning, November 8, we crossed the border into Afghanistan at Taybad after much hassle. It was striking to see how different two neighboring countries can be. The Afghan customs officers walked around in the most unkempt mishmash of uniforms and were very flexible with formalities as soon as you flashed some money. We arrived in Herat in the evening, where we hadn't been off the bus for ten minutes when someone reached out his hand to me and when I reciprocated to my surprise I found a sizeable lump of hashish in my hand – the donor was probably on his way to cross the border. Hashish was also readily available at the reception of our hotel (Niagra), just like food and drink. This photo (from the book The Hippie Trail: After Europe, turn left by RL Kreamer) is exactly as I remember Herat. From the bus we walked along this wide street where in the evenings all kinds of commerce was carried on in the light of kerosene lamps.
Despite the barren scenery, I enjoyed the Afghan landscape, where nothing seemed to grow. It held a certain mystery to me, too, when every now and then you saw a shepherd with some goats or camels walking along the road, or people sitting in the shade of a lonely mud hut. What do people live on? What do they eat? Do children even have friends to play with in this seeming desolation?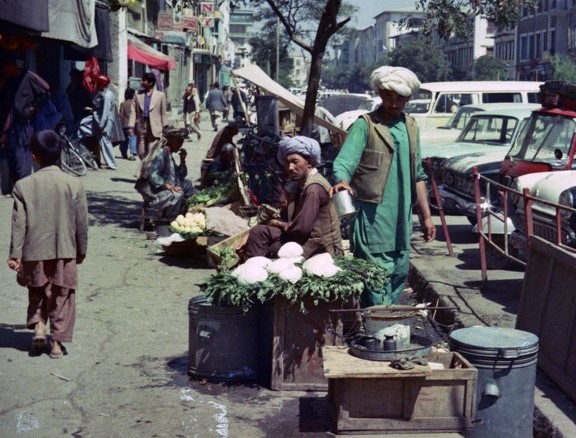 RIght: Street scene in Kabul (photo: Mario Paluan)
On November 11 we arrived in Kabul, where we ended up in the Eagle Hotel (30 afghani's each). In the courtyard of the hotel a huge owl sat opposite us. Although we saw many Afghanis with rifles and women in burqas walking down the street, the city felt relaxed compared to Tehran or Mashad, because we weren't constantly offered things for sale. The "tourist center" was located around Chicken Street, where all kinds of restaurants served western dishes, such as spaghetti, pancakes or milkshakes (tourist, much?). In my notes I see that we even had a bottle of wine brought to the hotel, which we enjoyed very much.
In Kabul's Shar-e-Naw, where many buses stopped, there were modern-looking shops and offices and in the street we saw women in burqas alongside women in fashionable western clothing. But in Chicken Street and most other streets, the shops were traditional and there was a lot of itinerant trade, including shoe shiners and chestnut vendors.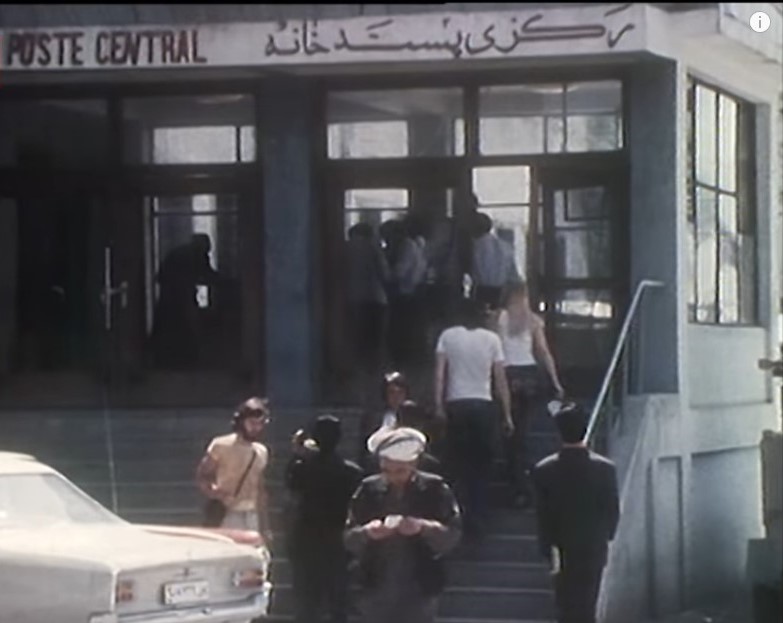 Before email and cybercafes, Facebook, or Whatsapp, letters sent 'Poste Restante' to the General Post Office in the next city on your route were the only affordable way to keep in touch with the home front. So one of the first points of order upon arrival was a visit to the GPO to check if there was any mail from family or friends.
Right: Checking mail in the 1970s – General Post Office in Kabul. (Image: SRF)
When the hashish that was given to me in the street in Herat had finished, we bought some more in Kabul. Here, opium and heroin were just as easily available and a number of documentaries that were made about the hippie trail highlight the considerable number of young Westerners who became addicted here and found their untimely final resting place. We were aware of the dangers of these substances and were not the least inclined to 'experiment' with them. The hash that Cor bought here, though, made us so incredibly and unpleasantly sleepy that in retrospect I suspect it might have been mixed with something much stronger.
After five days we managed to get on a bus that took us across the Khyber pass, which was still regularly made unsafe by bands of robbers. In Peshawar, not far across the Pakistani border, we reached the Rainbow Guest House by horse taxi (tonga), which was surrounded by all kinds of garage and forge-like activity. We were very hungry and I was pleasantly surprised to see a dish with spinach on the menu of the hotel's restaurant. That's what I wanted, after so many weeks without many vegetables. The spinach looked appetizing, but when I took a bite, flames shot out of my ears. Who on earth decided to cook spinach with peppers?! A hastily ordered cold(!) coke did not help to calm my taste buds or wash away my disappointment. I was forcefully acquainted with the spicy dishes of the Indian subcontinent through a seemingly innocent serving of spinach.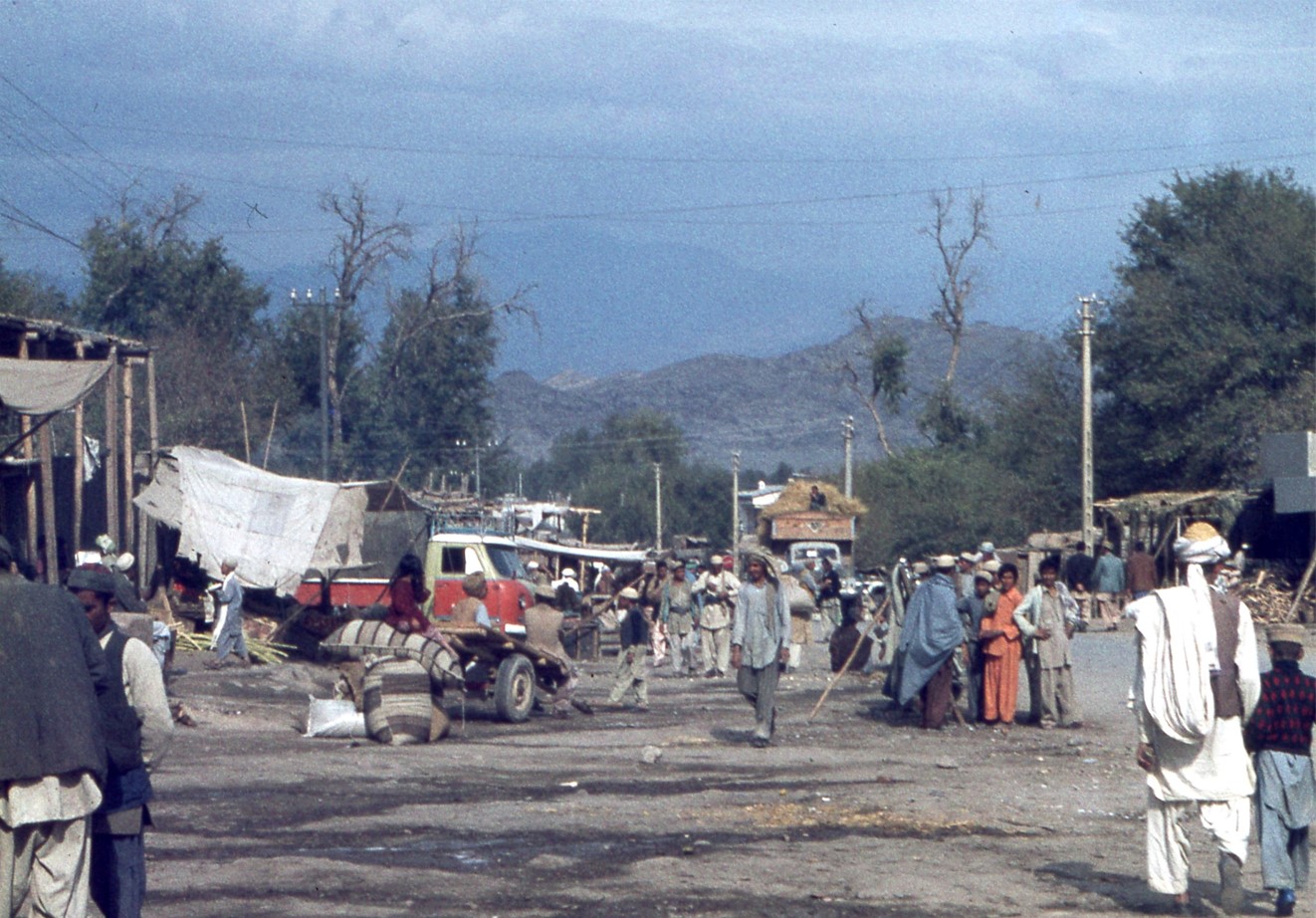 Peshawar was incredibly busy, with many disfigured people in the dusty streets, where the smell of decay hung over the household and vegetable waste and offal. I also had my first sighting of a fakir who was walking around with a huge knife stuck through his neck. Because, you know, why not?
Left: Street scene in Peshawar (Photo: Cor Kroon/Gerard Aartsen)
Two days later we arrived in Rawalpindi (hotel Taj Mahal). As we were having a milkshake somewhere, we struck up a conversation with a young Sinhalese who told us in very poor English that he was on his way to the Netherlands with only 350 rupees on him. When we pulled out our map to show him where it was, it was as if it was the the first time in his life that he saw a map and only now understood how far Holland was. I was annoyed because Cor and Frans remained so patient while he hardly seemed to understand a word we said. If it had been up to me, we would have moved on, but he wanted to join us to the Indian embassy for a visa, to sign up on a cargo ship in Bombay. We called him "Flimflim" because he talked about films a lot, but consistently pronounced the word "flim," and always twice.
From Rawalpindi a minibus took us to Islamabad, where the embassies were located, at 1 rupee per head. That's dirt cheap, but the vans don't leave until they have about 18 or 20 passengers where there's room for 8 or 10. At the embassy we filled out the visa application forms and left our passports, which we would only be able to pick up at 3pm the next day. We'd completely forgotten that we were out of cash, and without passports we couldn't cash cheques, while the banks would be closed for four days from 1pm the next day!
Tuesday, November 21, we tried with all our powers of persuasion to get our passports back a little earlier, but we didn't get them until 4.30pm. That morning Frans had made a deal with 'our man' at the Grindlays Bank that he would wait for us until 3 o'clock. In the faint hope that he would still be there, we asked our taxi driver to race to the bank where we managed to cash some money at the last minute. So much stress...
On November 22, our last morning at the Taj Mahal hotel, Flimflim came to our room again and at one point he disappeared into the bathroom. I thought he just needed to go, but after 20 minutes or so he still hadn't finished. Suddenly a bunch of curly wet hair peeked out from behind the door and his arm reached for Cor's towel on the hook. The casualness with which he'd taken a shower without saying a word and grabbed the first towel within reach showed absolute trust, as if he considered us his family. Suddenly I felt sad about saying farewell to this paragon of open-mindedness.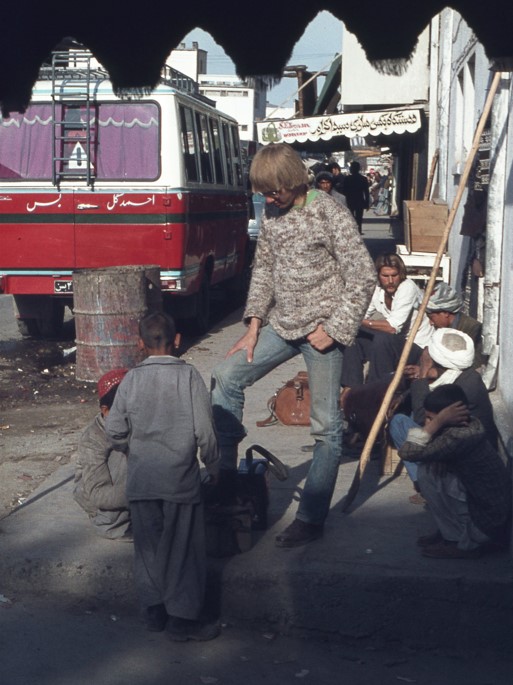 Shoeshine at the Rawalpindi bus station (Photo: Cor Kroon/Gerard Aartsen)
From Rawalpindi we travelled to Lahore by bus. We arrived around 3 o'clock and the tonga driver took us to Hotel Venus, where we were warmly welcomed. Before travelling to Amritsar in India the next morning, the manager insisted on giving us a free massage. As we were crossing the border Cor discovered that nine of his $100 cheques had been stolen. All three of us suspected that this happened during the 'free' massage, but perhaps, Cor said, he had left them at the bank in Islamabad. At the Pakistani border I was 'robbed' of Rs200 myself – according to the customs officer I was not allowed to take Pakistani money out of the country. I had to hand in my rupees and in exchange I would get a receipt with which I could claim my money back within two months. Since I didn't expect to be back here in two months, I said "That's robbery!" Strangely that helped a little, because now I was allowed to hold on to Rs100.
The border crossing itself was the most relaxing of our entire trip and a breath of fresh air. Where nowadays the Beating Retreat Ceremony (also: Silly Walk ceremony) is held every evening, we took a quiet walk along the road through a piece of demilitarized no man's land. Every now and then you had to show your passport or your vaccination passport and were given a stamp. (Erik Pontoppidan's photo below is from 1969, but it shows exactly how I remember it, although in 1977 the road was a little busier.)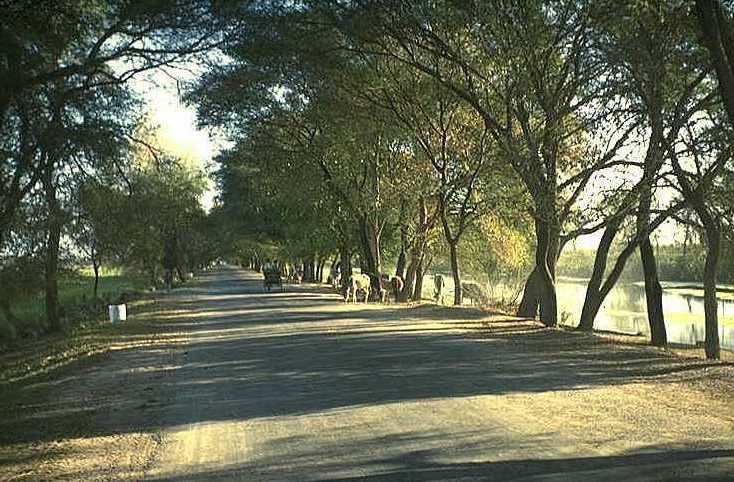 From the border we took a taxi to Amritsar, where we boarded the train to New Delhi. A railway employee would provide us with sleeping places for Rs5 – not. Travelling by train in India for the first time, and several times after that, is an ordeal. When entering the train there is only one aim: get on board, even if a thousand people still have to get off and a thousand others are already boarding, or climbing in through the windows - everyone over, on, between and through each other. We could forget about our sleeping places, they were already being used as seats, as in the (more recent) photo below, before we were even near them. We could only find seating by wriggling ourselves between others.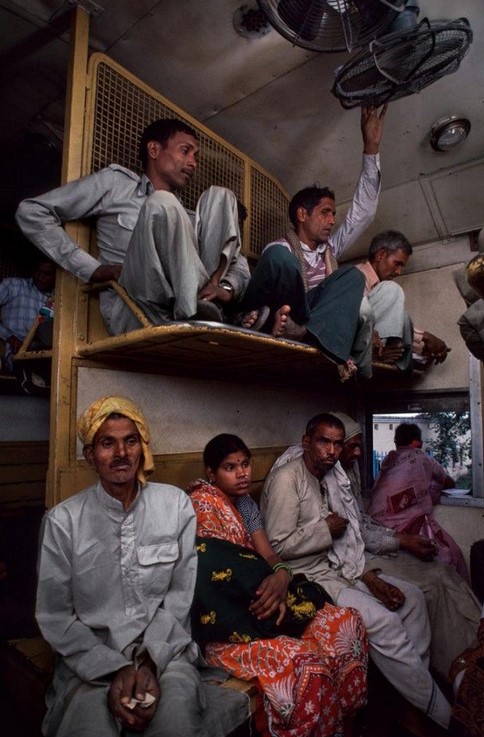 We had ordered coffee for 8 pm which was promptly served ... just as I was sitting between two Indians arguing over a seat. Cor and Frans held the tray with coffee and sandwiches out the window while I tried to pay, but the pushing and pulling caused some things to fall off the tray, which caused the argument to flare up again.
The next morning we were exhausted when we arrived in New Delhi, where a bicycle rickshaw took us to Hotel Natraj, not far from Connaught Place. On the way, the rickshaw rider navigated a revelry procession of wedding-goers, several of whom handed us brightly colored Indian sweets that were like bricks on our sober stomachs, while we couldn't really appreciate the cheerful but deafening honking of the party band at that early hour either.