The next morning, December 22, we did indeed get up early to cross the border. A guy from the hotel offered to show us the way, and in my memory he did it hurriedly, almost stooping and whispering, as if we had to cross the border illegally and stay out of sight. Out of sight of who? I had no idea because we had valid visas and received the required stamps at both borders. The minibus terminal in Birganj, on the Nepalese side of the border, was swarming with children who offered to load our luggage onto the bus for 50 paisa (half a rupee).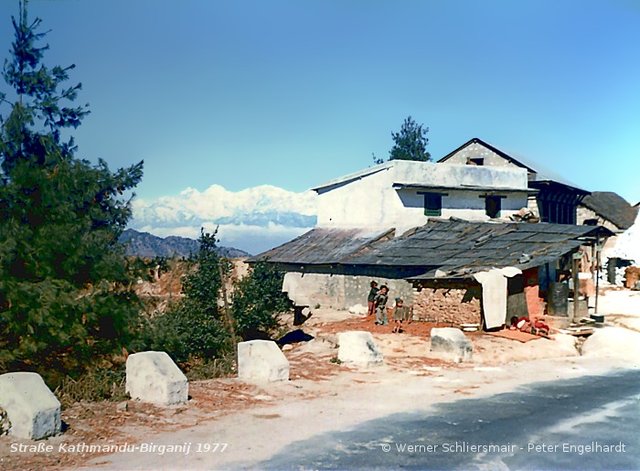 We crossed the Nepalese plain, the Terai, relatively quickly and from Hetauda the bus drove into the foothills of the Himalayas, on its way to Kathmandu. Heavy clouds hung over the Himalayas, so we couldn't see the mountains from the bus. The bus journey became a bit tiring because of the ultra small seats, but was graced by a man in a black robe who sang Nepali folk songs and accompanied himself on a portable harmonium. He didn't look like a Buddhist monk, so I assumed he was some kind of hermit. During a tea break by the side of the road, he tapped me on the shoulder and pointed towards the mountains: "Look, Sagarmatha!" In disbelief, I asked, "Mount Everest?" And there, through a hole in the clouds, we saw Mt Everest in the full glory of the sunlight. This was one of those moments where your heart jumps and you wonder if this is a good omen. (Image: Peter Engelhardt)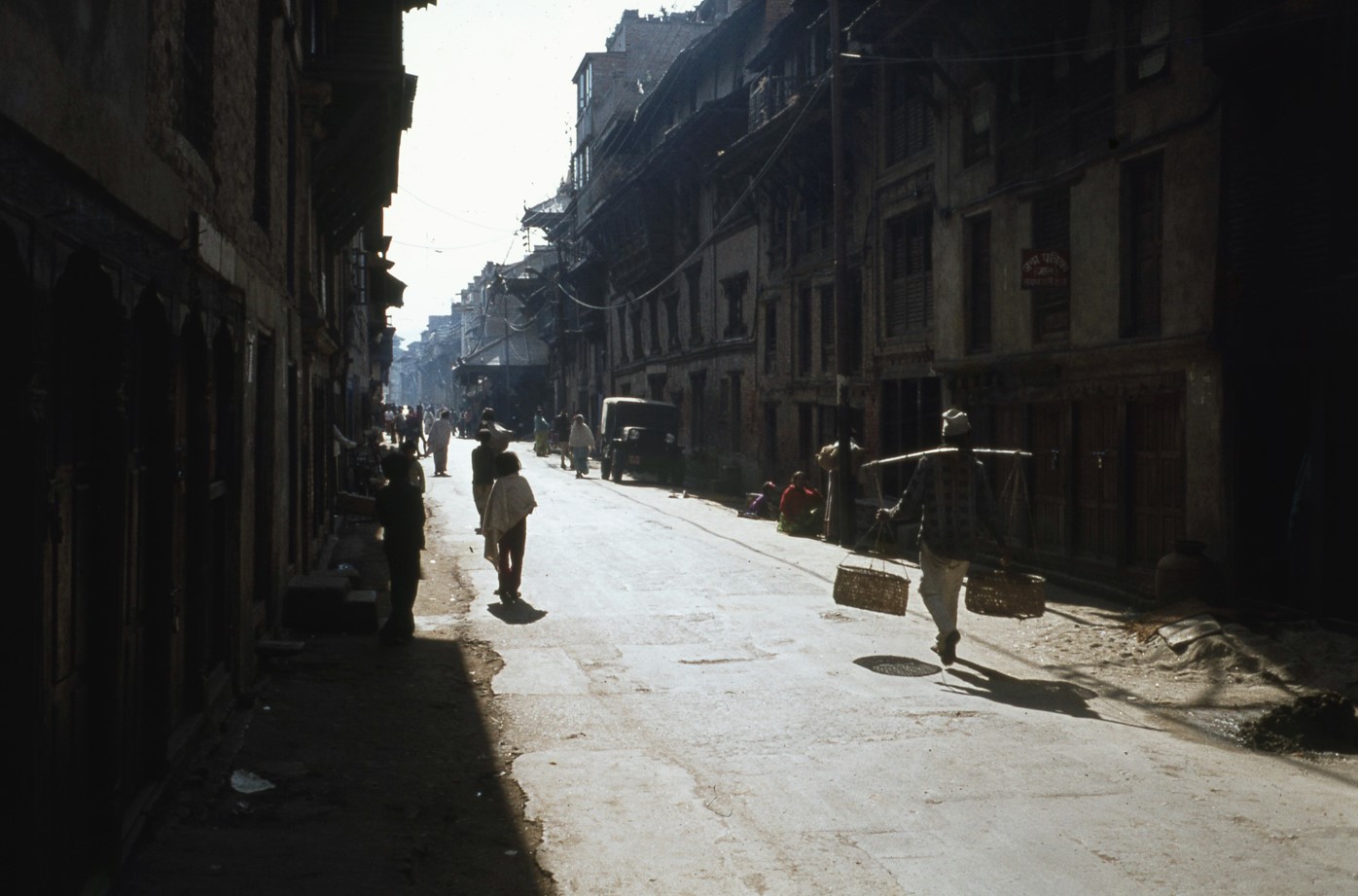 Kathmandu by morning light
(Photo: Cor Kroon/Gerard Aartsen)
On arrival in Kathmandu the GPO was already closed, so we immediately started looking for a hotel and a bank to cash a cheque. We ended up in the Everest Lodge in Jhochhen Tole, aka Freak Street. The stories of others about Kathmandu being a dirty city did not do it justice in my opinion, especially after the relentless bustle of India. Here the people threw you a friendly smile as they minded their own business. Walking through the streets I imagined that things were not much different in 15th century Amsterdam, except that the Asian faces left no doubt where I was. The city centre consisted largely of traditional red brick houses with Newari carvings on the facades and numerous large and smaller temples.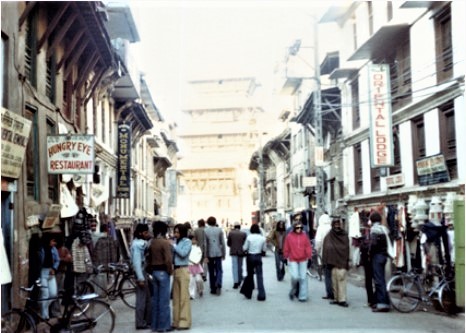 Coming from India and New Delhi, Kathmandu, Nepal and the Nepalis were a breath of fresh air – despite the dusty streets – and Kathmandu in the early morning sunlight held a mystical beauty. No wonder many hippies had ended up here in the previous 10 or 15 years, who I suspected had helped local residents set up the restaurants and pie shops to cater to the steadily increasing flow of Western travelers. Our regular hangout was The Hungry Eye, where the tomato soup combined perfectly with the grilled cheese sandwich, and the service by a Tibetan boy was very entertaining.
View of Jhochhen Tole (Freak Street) in the direction of Basantpur, with The Hungry Eye on the left.
(Photo: Peter Engelhardt, December 1977)
Although the sale of hashish had been illegal since 1973, it was still readily available in the guesthouses and there were a number of so-called 'pleasure rooms' still in operation that were apparently tolerated by the authorities. Back home you had to know someone who was selling hashish somewhere at the back of a cafe, but in a pleasure room there was a menu to choose from, while, as long as there was no power failure, progressive music was playing on a cassette deck, like Pink Floyd and Jefferson Starship, but also Steve Miller and Garland Jeffreys. They also offered a wide selection of pie slices, banana or apple fritters with hot custard and coffee/tea/hot chocolate/hot lemon. I will never forget the time when I heard Pink Floyd's Dark Side of the Moon here.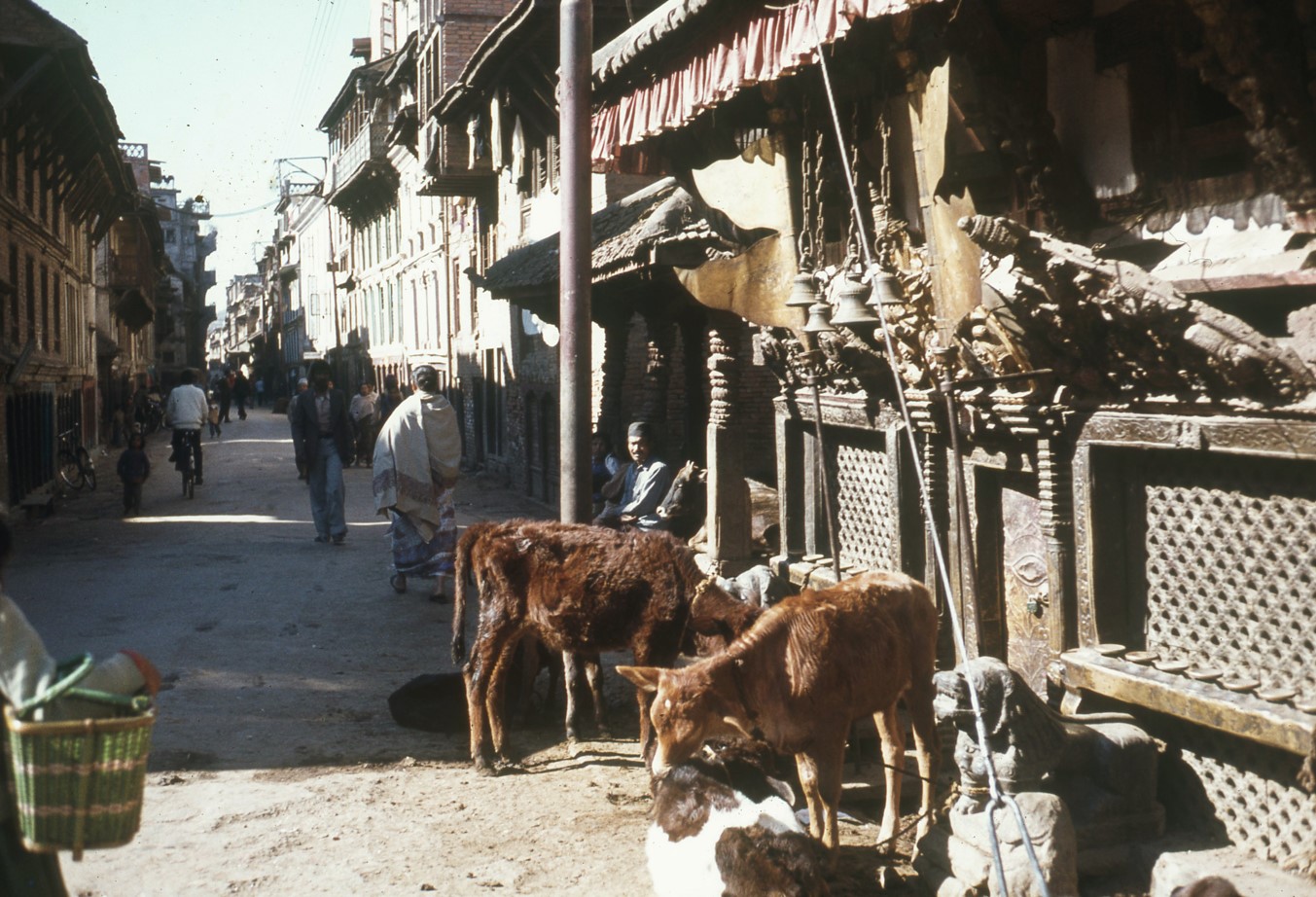 On our third day we had pretty much explored the city centre and decided to rent a bike to cycle through the suburbs to the western part of the ring road that had already been built. It was a special experience to ride over the asphalt up and down the hills without the usual city traffic and with the Himalayas in the background! As we cycled back into Kathmandu, we passed a large group of men who were walking rather quickly along the side of the road and as there was quite a bit of traffic I rang my bell as a precaution as we cycled along the procession. When we reached the head of the procession, we saw that a covered child's corpse was being carried on a bier. Although I couldn't have seen it from behind, I still felt embarrassed that I had rang my bell.
Besides the Hare Krishnas, many of whom were white, we noticed that there was also a very active branch of the Children of God cult ("Jesus Freaks") in Kathmandu. They approached you with warm attention and invited you to their "special evenings" with music and food and a lot of "fun and love". The story was that on such evenings the boys and girls in the cult were encouraged to sleep with visitors in order to make them feel they 'belonged' as quickly as possible, so that they would come back and join them. Frans and I didn't feel called to Jesus by their sugary invitations.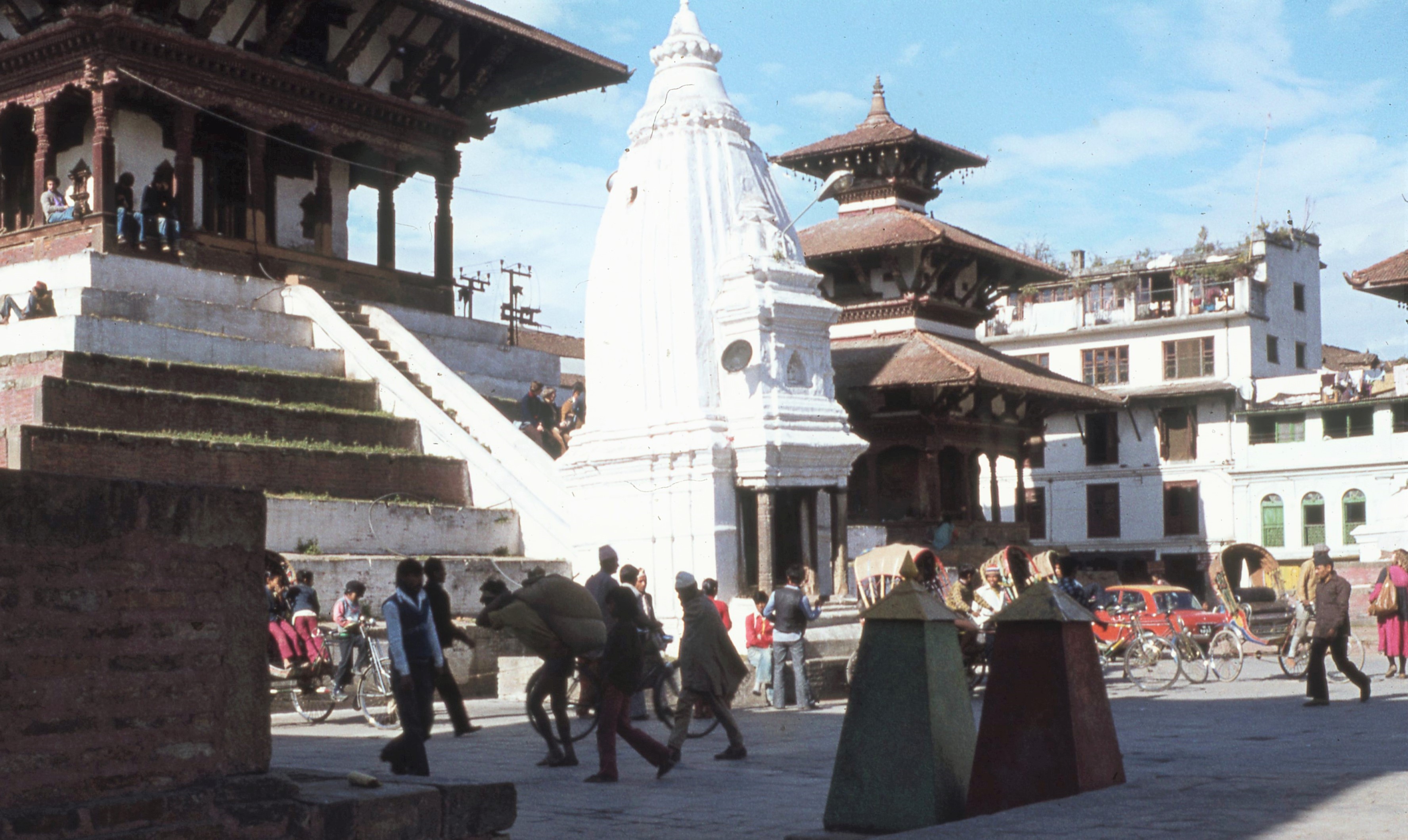 When we'd been to the post office and hadn't found Cor there, we liked to sit on the steps of one of the temples in Durbar Square and watch people – Nepalis chatting or carrying goods around, souvenir sellers looking for new faces, saucer-eyed new arrivals or tourists who bargained for a lower price on trinkets.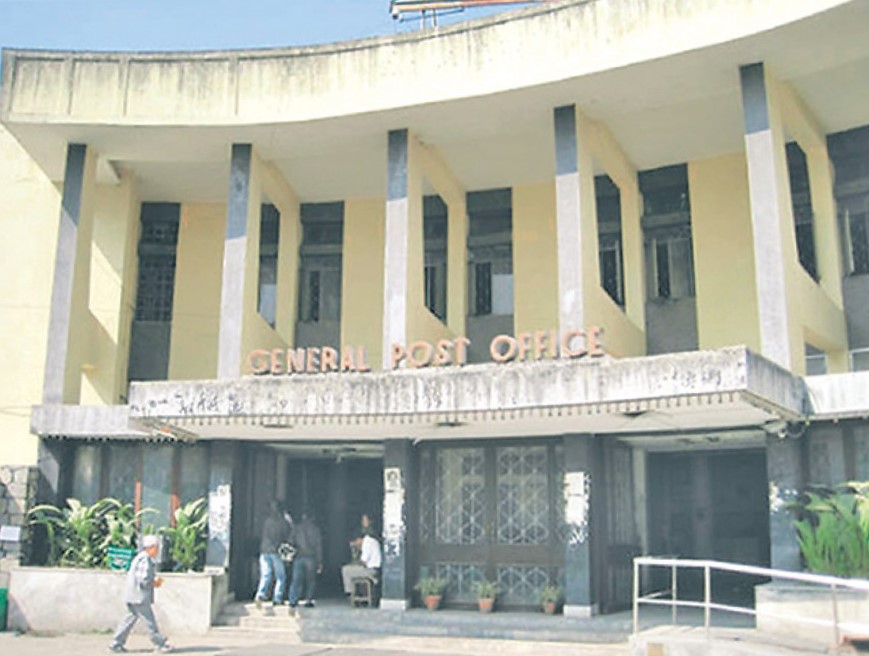 Durbar Square (Photo: Cor Kroon/Gerard Aartsen)
The first time we went to the post office (photo below) there was a uniformed man with a baton directing traffic. Not so much the lone bicyclist or the rare car coming to or from the post office, but us pedestrians. We soon saw that his long coat and his kepi were decorated with 'medals', which made it clear that we were not dealing with a regular traffic cop here. In the days that followed, we saw him regularly in different places around the city centre. Sometimes he would be strolling down Freak Street and stop you for no reason and say something unintelligible. He spoke English, but there was no rhyme or reason to what he said and if you made it clear that you didn't understand, he would hand you a piece of cardboard with scribbles in English that also made no sense, except for the words 'Global Emperor', the title he had given himself. We regularly saw him (dis)organize traffic at the beginning of New Road on Basantpur. It was a pleasant surprise to find a photograph of him in a blog with historical photos of Nepal by Kevin Bubriski.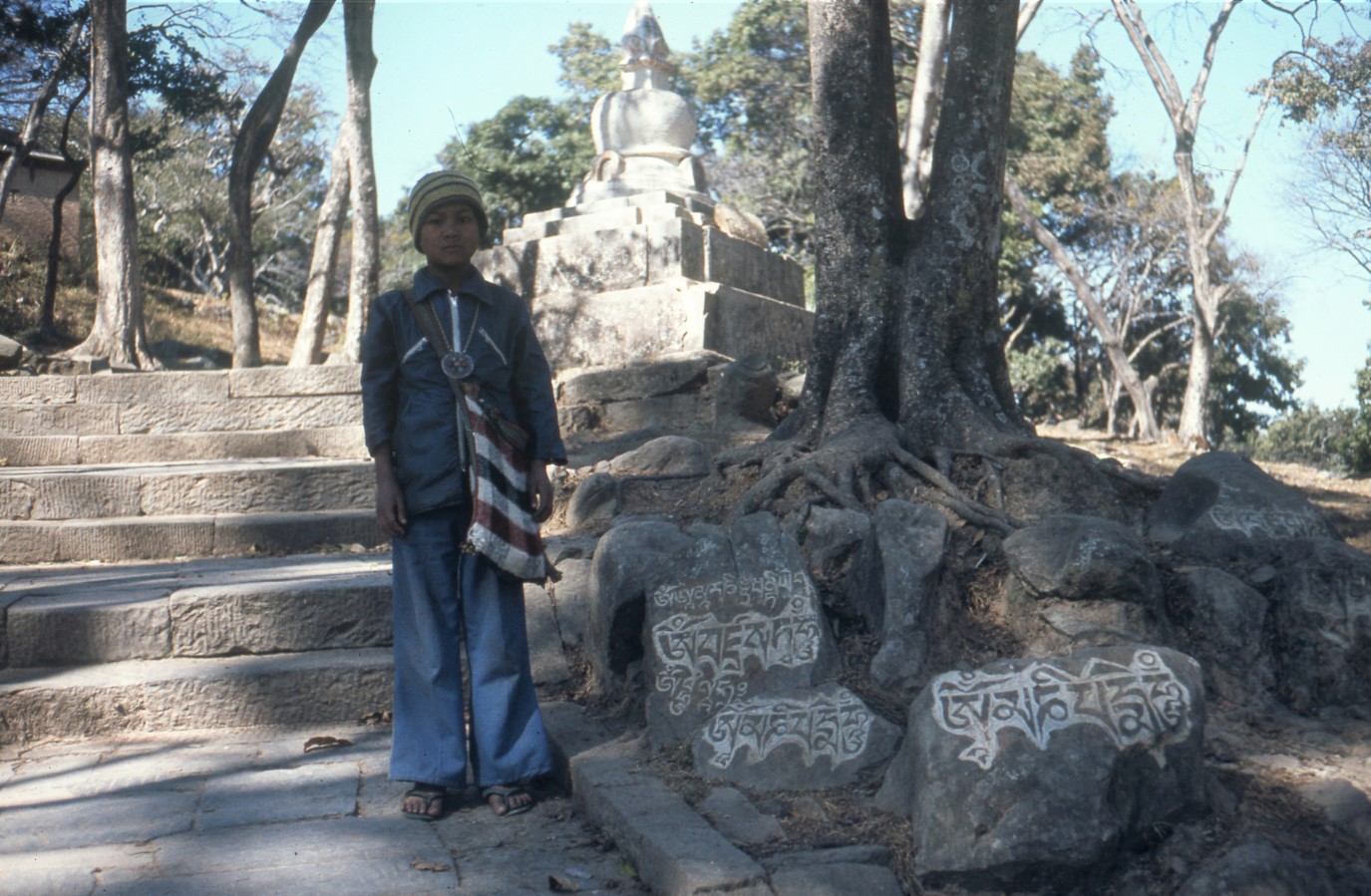 Left: On the steps of Swayambunath with our guide, souvenir seller Bodhiratna (Photo: Cor Kroon/Gerard Aartsen)
On January 1, 1978 Cor was waiting for us at the post office and we took him on 'our' tour of the city. It turned out that he only managed to come to Kathmandu because his parents had lent him some money, as the bank refused to replace his stolen cheques. With Cor back in our midst we visited the famous Buddhist shrine Swayambunath (the 'monkey temple') and nearby Bhaktapur and Patan, both a kind of miniature Kathmandu. Because our money supply was dwindling and we wanted to see a bit more of Nepal, we decided to go to Pokhara, the second city of Nepal about 200 kilometers west of Kathmandu, and booked a Swiss minibus for 3 January.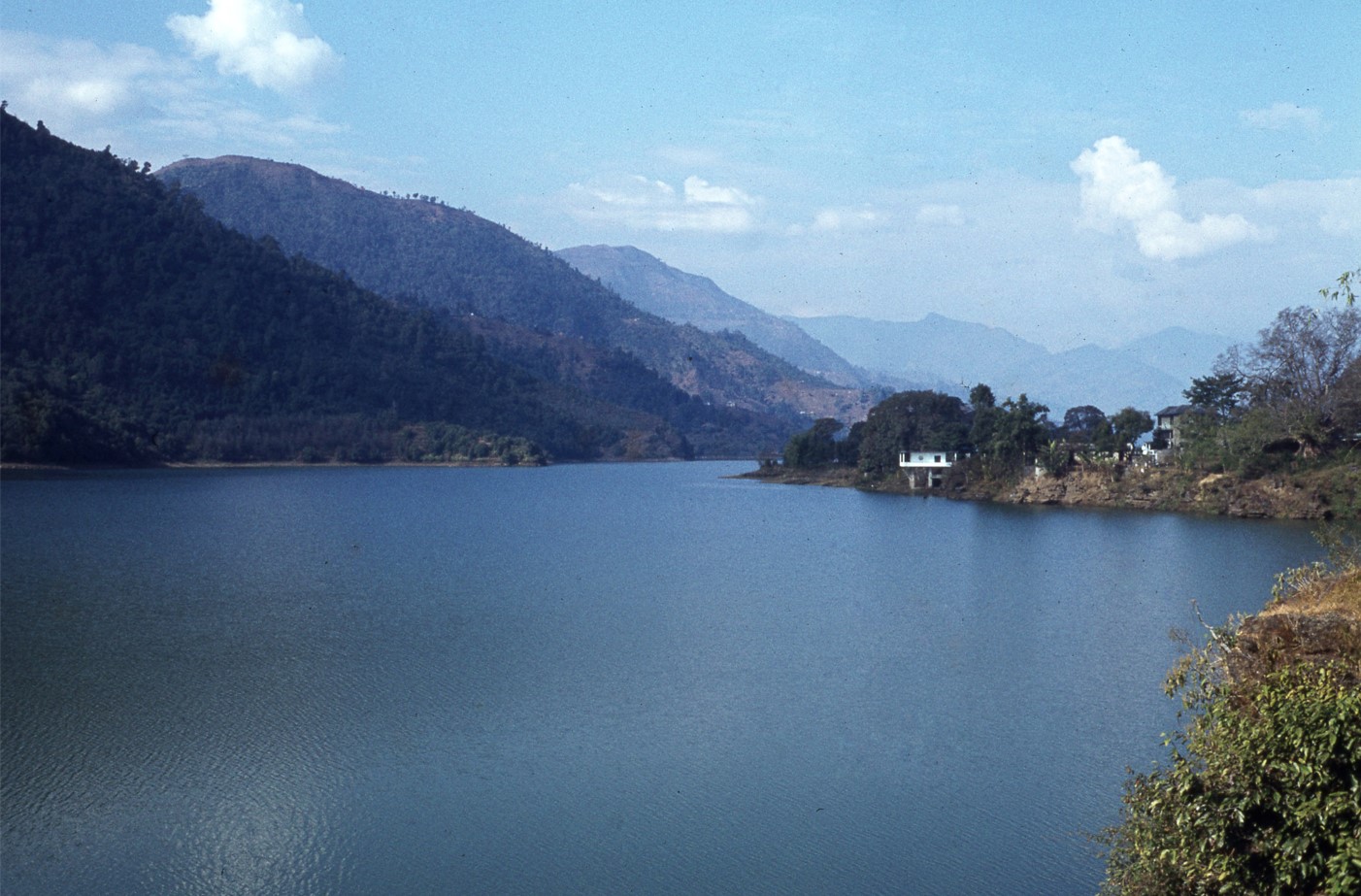 Right: Lake Phewa (Photo: Cor Kroon/Gerard Aartsen)
The bus ride along the Prithvi Highway, built in the early 1970s with the support of the Chinese government, took a good six hours if all went well, including a stop for lunch and several tense moments as the top-heavy bus navigated the narrow road along steep abysses. It was already getting dark when we finally got off at the Swiss Restaurant at the end of the road along Lake Phewa, but a number of 'proppers', as they are now called, were waiting to bring new arrivals to their budget hotels. The boy who convinced us to come with him, Indra, said his lodge was not far. Good thing too, because we were pretty tired. Next we walked for what felt like fifteen minutes back along the same road by the lake past all kinds of lively and illuminated guesthouses and restaurants until we were all the way back at the beginning of the lake.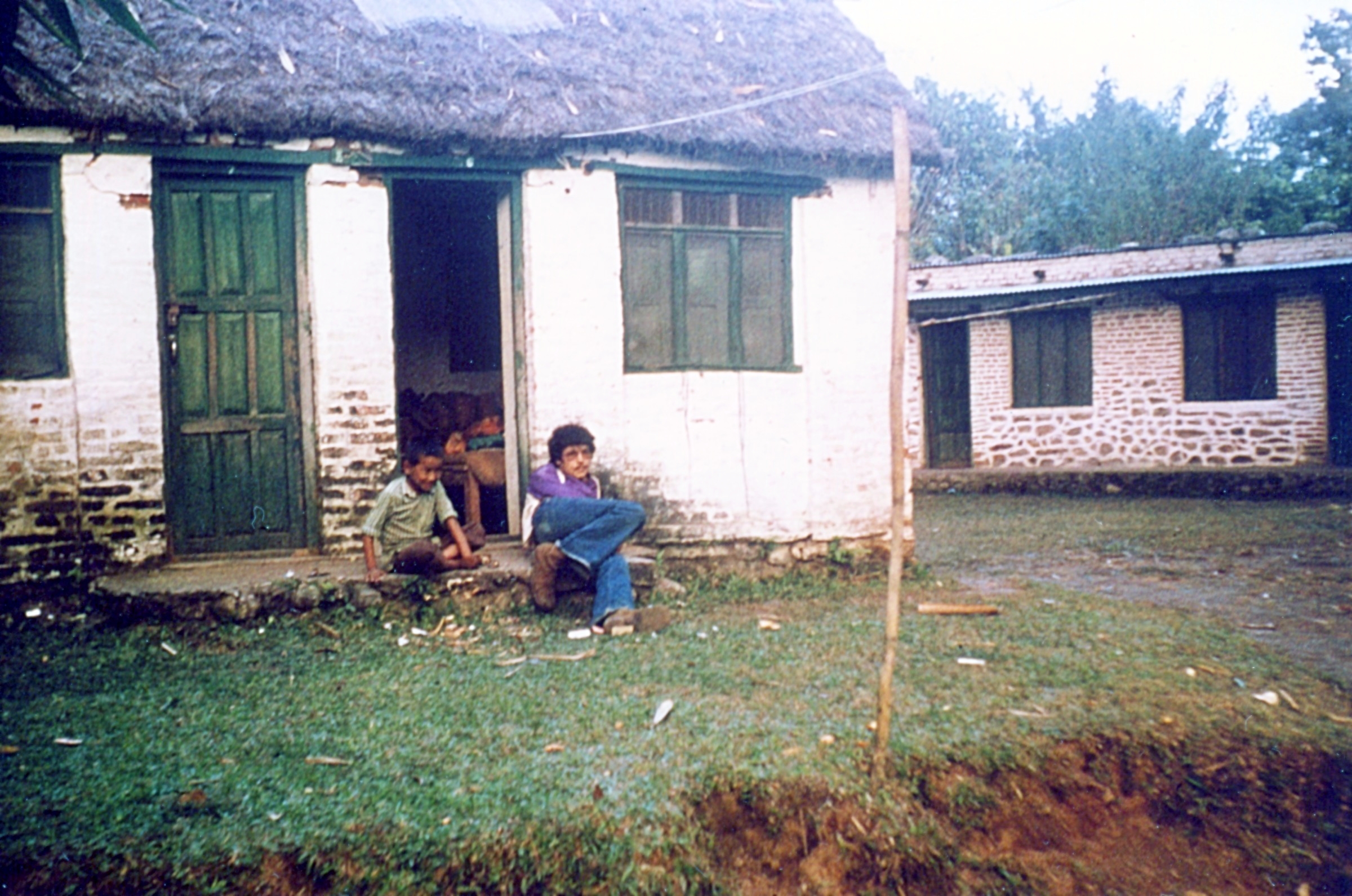 At the Trekkers Retreat Lodge & Restaurant we walked up the driveway to the bamboo construction that was the dining hall, at the back of the compound. Simple buildings with three rooms each stood on either side and at the front of the property, at the head of the left-hand building next to the driveway, another two-roomed building. This looked like it was the oldest building because it was the only one with a thatched roof, which, despite the bamboo mats on the inside, gave off a lot of dust, but was much less noisy when it rained than the galvanized corrugated iron on the newer buildings. At the other end, near the dining hall, was a separate building with the bathroom and two squatting toilets. (The water came from the two barrels on the roof for collecting rainwater. For a comfortable shower you waited until after noon, so the water had been warmed by the sun. You shouldn't wait too long though, in case the water ran out and you'd have to wait until someone had time to refill it from the mains.) One of the eight rooms was permanently occupied by the owner and his family. The corner between that room and the dining hall was occupied by a makeshift extension that served as the kitchen and the cook's quarters. Frans and I shared room 6 (on the right in the photo above) and Cor was accommodated in room 7 next door. (I found the photo in Peter Engelhardt's travel blog, who had stayed there for two weeks a month before we were there.)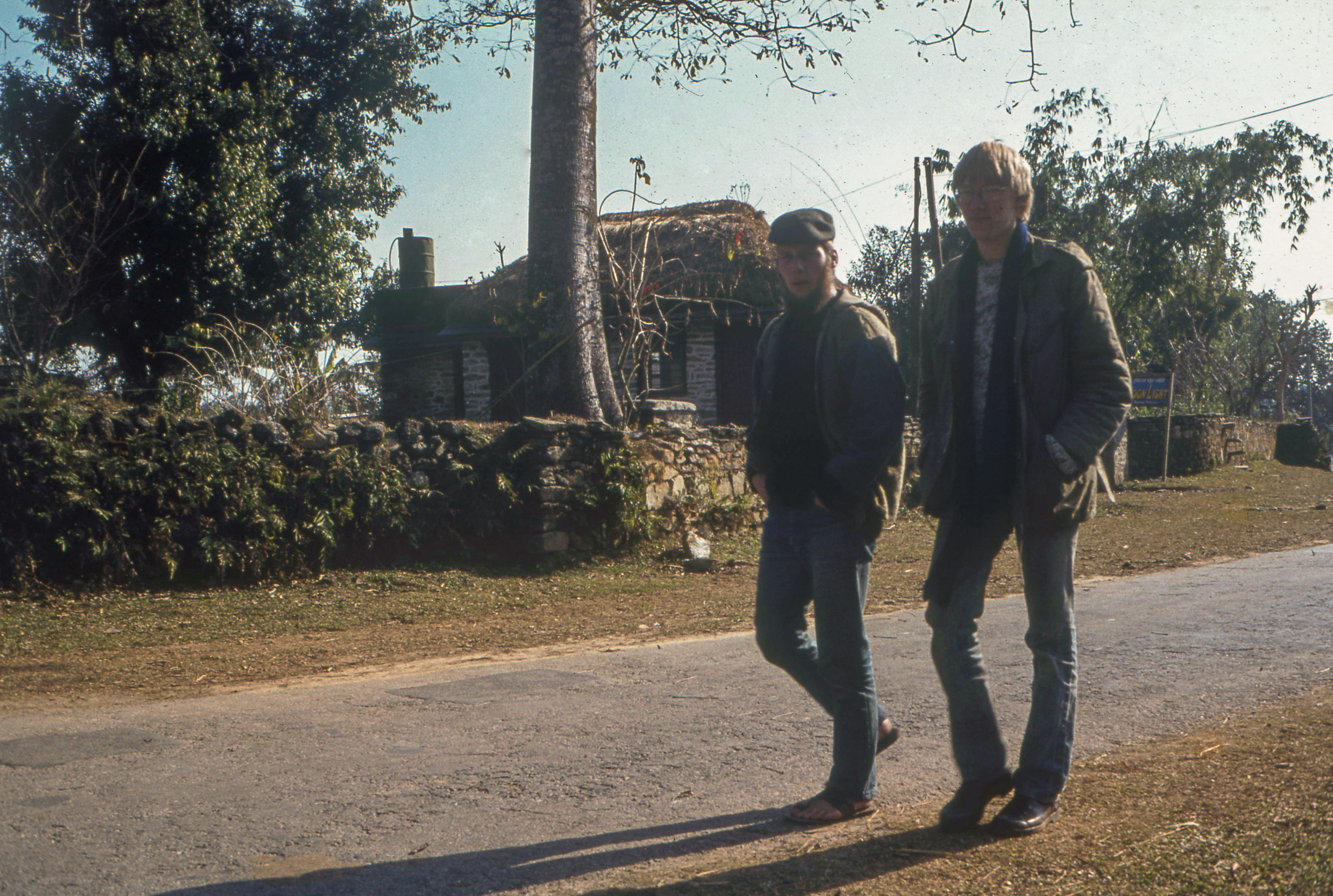 Strolling along the road by Lake Phewa (Photo: Cor Kroon/Gerard Aartsen)
Click here to see how it looks in 2021.
When we arrived in the dining hall a number of guests were chatting animatedly while their orders were being served. In the days that followed, we were acquainted with business partners and 'freak brothers' Tim and Tom from Iowa, Karen from California, George and Deborah from Australia, Ken and Marianne from England and Ireland, respectively, Steve from Scotland and a few other people who had been here for weeks already or had returned. I also found out that this was not the city, but Lakeside in the village of Baidam, about 15-20 minutes by bus from Pokhara (bus ticket below).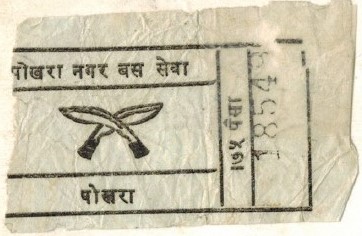 Across the lake was a densely wooded nature reserve, said to be the private domains of King Birendra, but Baidam itself, with its countless papaya, banana and lemon trees and rhododendrons dotted around the patches of land where all kinds of vegetables were grown, also felt like a green oasis in a country that had been seriously deforested for fuel due to (often illegal) logging. Every morning the local farmers came to the hotels and restaurants with fresh milk and yogurt, honey, fruits and vegetables, eggs and chickens. In the morning you would see what you would eat later that day if you ordered mixed fruit muesli with honey or chicken chow mein, for example.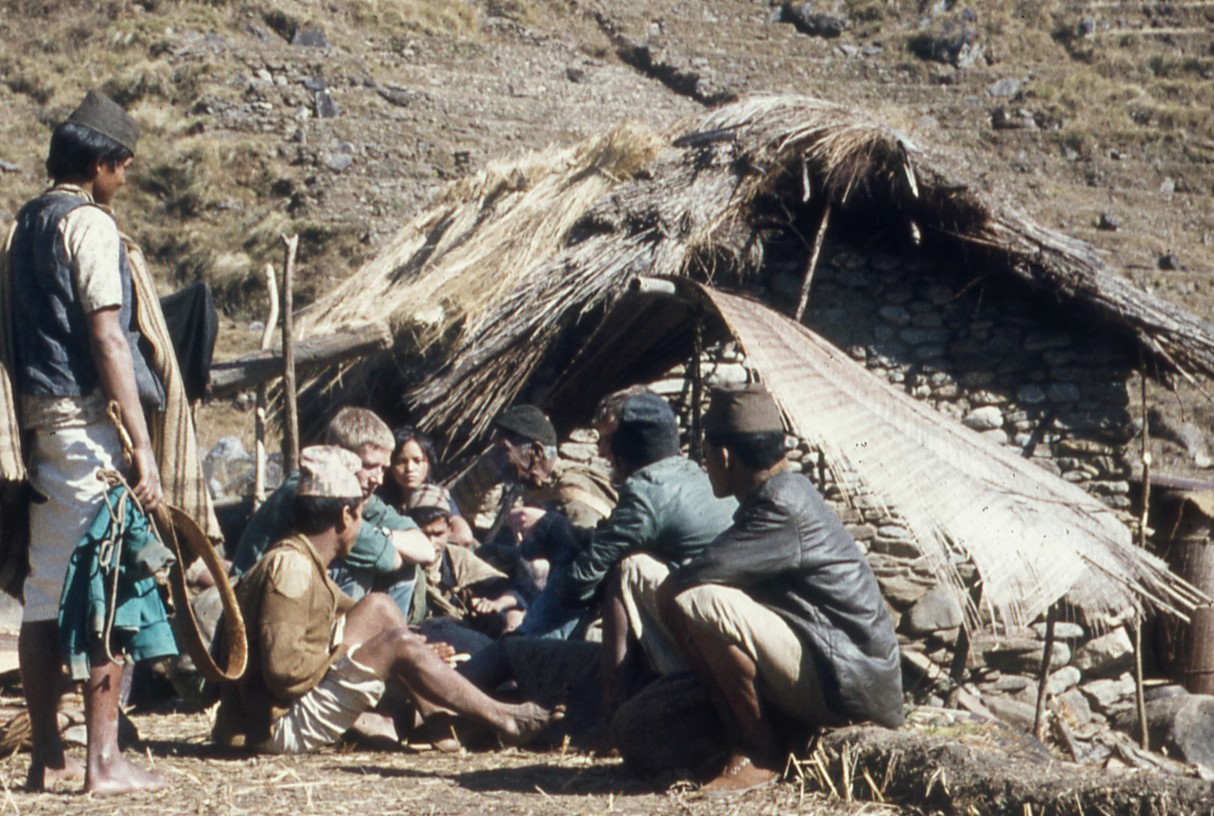 On January 6, we met someone who offered us a six-day 'illegal' trek – illegal because almost all treks required a permit to be shown at police posts along the mountain trails, but this man said he knew a route where a permit was not required. Trekking permits were not only a source of income, but also helped authorities track down tourists if something had happened to them. In some remote areas it was better not to travel without a guide, because you risked being robbed.
Cor and Frans (just visible behind the second man from the right) with villagers during their trek (Foto: Cor Kroon/Gerard Aartsen)
Cor and Frans were game, and I didn't mind having some time to myself again for a few days. I was moved to the room where Cor had stayed and made more contact with the owner Mukut, his wife, whom everyone called Didi ("sister"), their funny and naughty sons Dinesh (left in Peter Engelhardt's picture above) and Suresh, Prem the cook, and the corgi Puppy.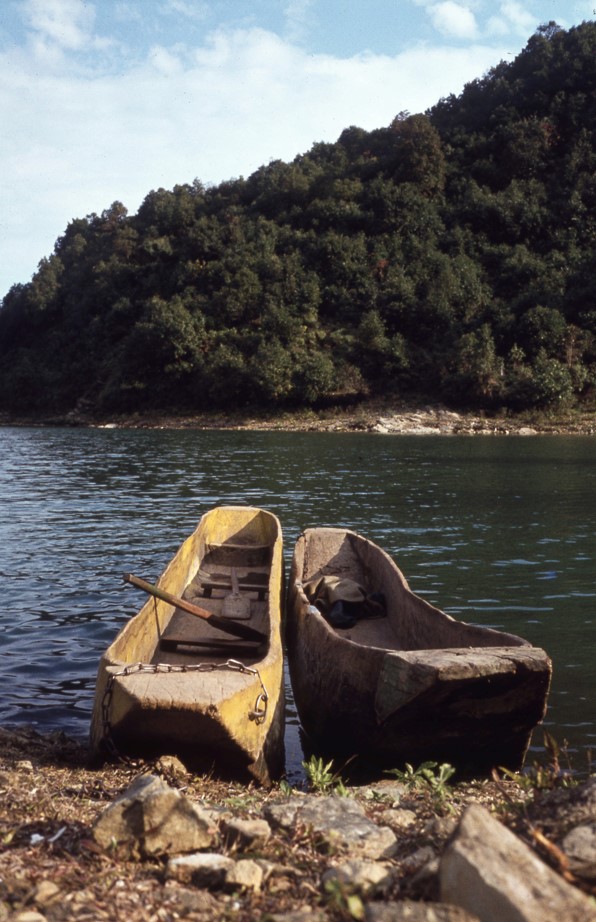 Tibetan refugees from the camp outside Pokhara stopped by regularly trying to earn a living by selling silver jewelry, precious coral necklaces, prayer wheels, rugs and other souvenirs. There were rowing boats and bicycles for rent along the road and the lake, there were several tiny shops along the road for daily necessities (cigarettes – Gaida or Yak; matches; candles; biscuits – Gluco or Arrowroot; washing powder; apples; cheese; etc.), while on my daily walk along the lake it was always a struggle not to look at the display cases to see which pies or cakes were available that day.
While Cor and Frans were away on their hike, I got to know Tim and Tom, George and Deborah and Ken and Marianne better, and I found out that Karen was schizophrenic and had occasional psychotic episodes. One day she had such severe amnesia that Tom and Sam, the British nurse who also stayed 'with us', took her to Kathmandu for treatment and repatriation. Over the weeks, a loose-knit community had formed in which I began to feel quite at home without having to adjust. When I was writing on the front steps of my room and Tom asked "How'ya doin' today, Gerald?" in passing, it sounded more like genuine interest than the standard greeting. This crowd was actually the first we felt comfortable to engage with beyond superficial exchanges about "where from" and "where to". Along most of the route from Istanbul we found the majority of travellers obsessed with outdoing one another over who managed the cheapest rates and fares for this journey or that room. Utterly tiresome.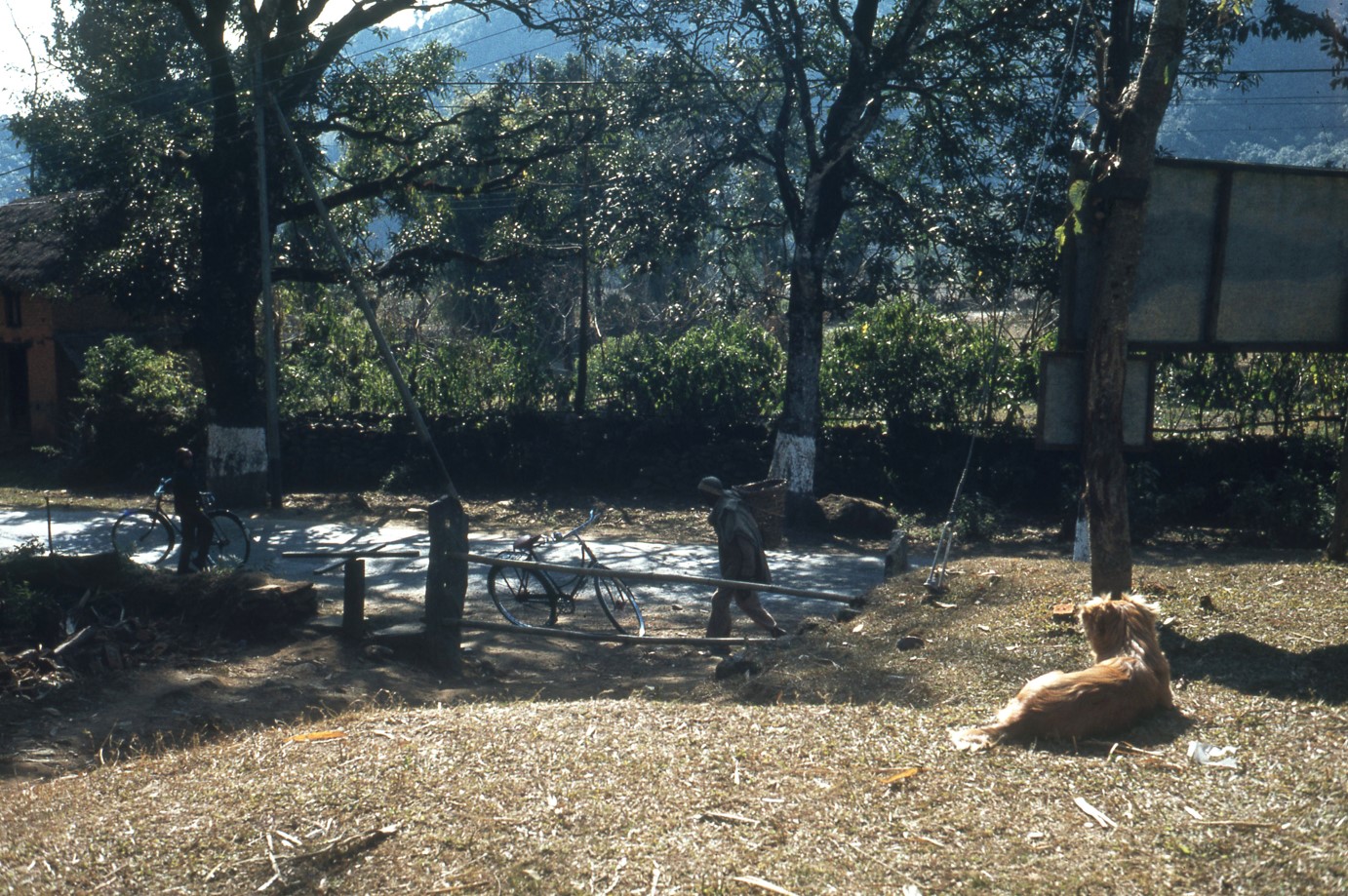 "Puppy on guard" - The entrance to the Trekkers Retreat compound as seen from rooms 6 en 7 (Photo: Cor Kroon/Gerard Aartsen)
Click here to see the situation now.
Whenever someone forgot to close the bamboo barrier at the beginning of the driveway at the Trekkers Retreat site, there would always be a few water buffalo walking up looking for vegetable waste – or just vegetables. As soon as they were spotted by Didi or one of the children, Puppy was called into action in a shrill voice, and his loud barking would drive the water buffalo off the premises. When Didi, the children or Prem were not there, Puppy would be alerted by one of the guests. These beautiful massive beasts roamed freely everywhere, but were usually as relaxed as the Nepalis themselves. If they got in the way on the street, a pat on their back flank was often enough to get them to step aside. You had to keep an eye out though, because if one is startled and runs amok you don't want to be in their way.
Like the farmers with the fresh produce for the restaurants, others would stop by the hotels with fresh hashish and fresh (or dried) magic mushrooms for those interested. Mushrooms were especially popular with Japanse, Italian and French freaks. I regularly saw batches of mushrooms lying in the sun in front of people's rooms, that were then finely chopped and mixed in pots of honey. That way people hoped to take them through customs unnoticed. The easy availability of drugs was visible in the streets in Nepal, as well as in India. Just like in Kathmandu, I regularly saw people here who were on a bad trip and could no longer distinguish between their inner world, in which they had become trapped by excessive drug use, and the outside world. Unwashed, often half dressed, oracular or begging the local population. Once I saw such a person walking barefoot (not so strange) with burning candle stubs between his toes (very strange).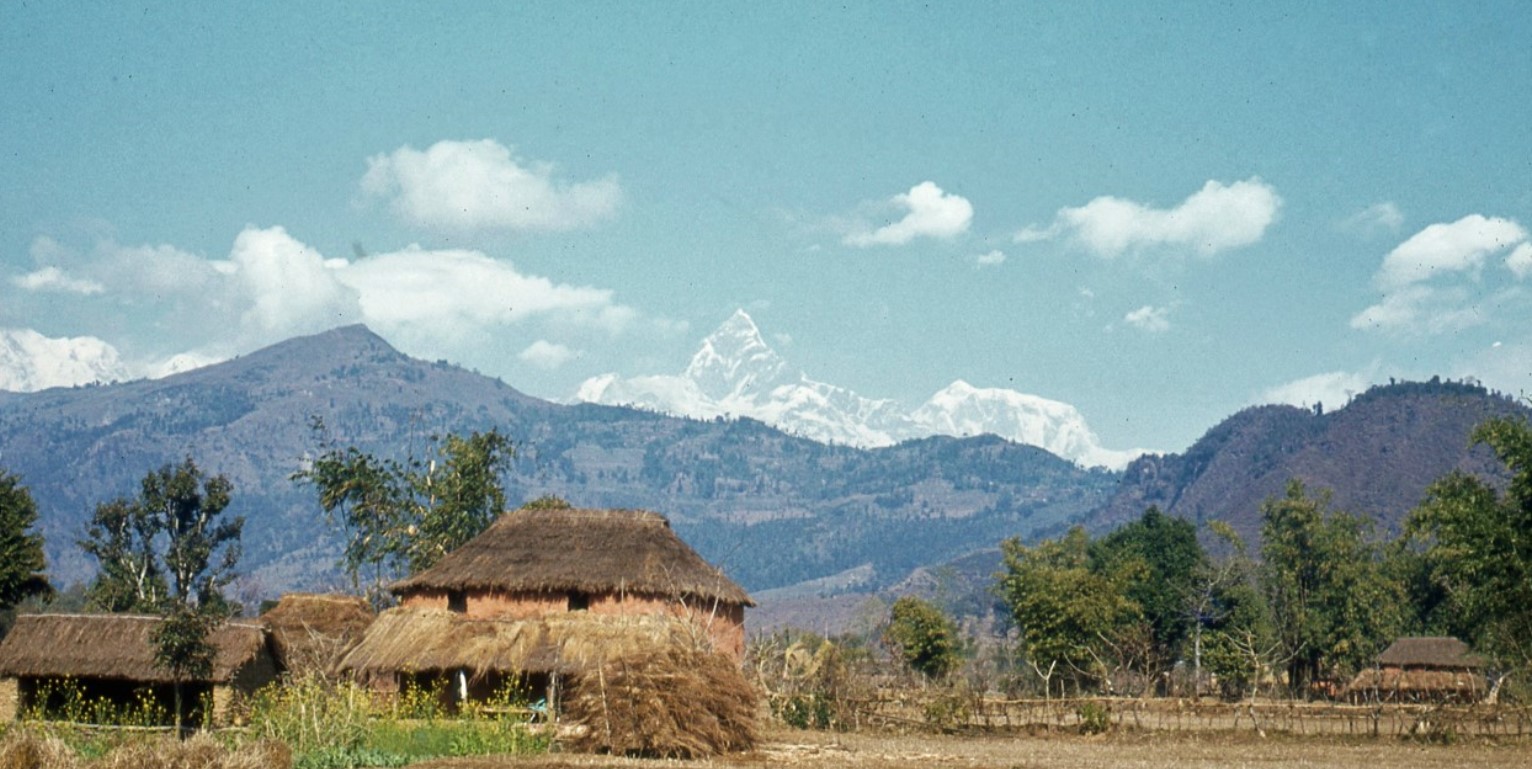 View of Machhapuchhre (the 'Fishtail') from the road along Lakeside, Baidam (Photo: Cor Kroon/Gerard Aartsen) Click here to see the same area now.
What made our stay at Lake Phewa in Baidam unforgettable for me was the breathtaking views of the Annapurna range, with its characteristic 'fishtail' mountain peak, the Machhapuchhre. Every morning it was a spectacular sight to see the light of the rising sun against the snowy peaks change colour – from purple to red to orange to gold to yellow and finally the white of the snow. There was nothing more peaceful than watching the morning mist lift over the fields with that spectacle in the background.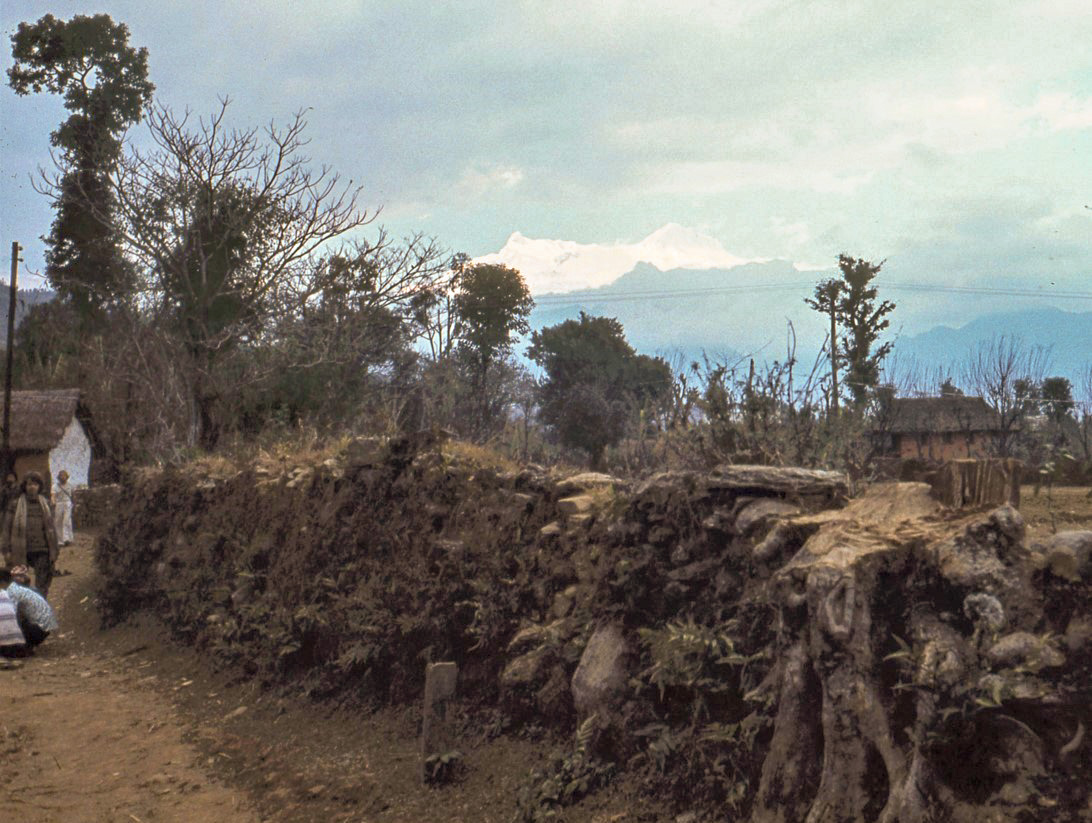 The Annapurna range seen from what is now Lakeside Road, Baidam (Photo: Cor Kroon/Gerard Aartsen)
On January 17, Cor left for his return journey to New Delhi, where he hoped to finally get his stolen cheques reimbursed. That night Frans shared Cor's room and I was put up with Tom, because Tim was off to Kathmandu to arrange his return trip to Iowa. In Kathmandu Frans and I had already made inquires for our return journey by TopDeck double-decker bus. Because it wasn't clear then whether there would be room for us for the February 9 departure, we had to go to back to Kathmandu in time to check and, if necessary, to find an alternative. As if we had to leave paradise behind, we postponed our departure until January 26th. Tim and Tom, and George and Deborah had left earlier to get a visa extension. The evening before our departure we had just enough Nepali and Indian rupees between us to pay Mukut. The first few days we asked to pay after every meal. The reply was always the same: "You can pay later", because all our nights and orders were just put on a tab in a notebook.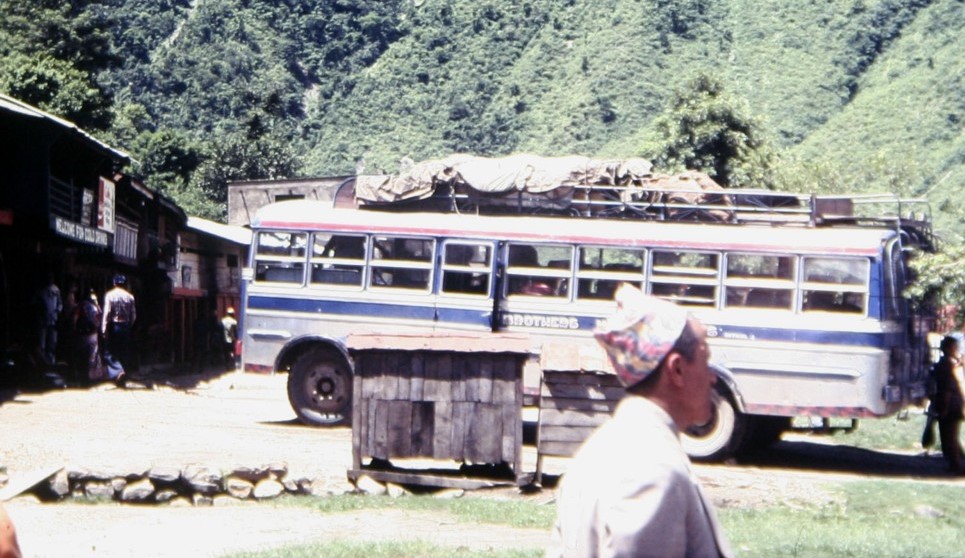 Stu, from Canada, who also stayed at the Trekkers Retreat, traveled with us to Kathmandu. Half way through the ride, as we stopped for lunch, we heard someone calling, "Franz! Gerald!" There, in one of the restaurants, we found Tim, Tom, George and Deborah having lunch while on their way back to Phewa Lake.
Left: Stopping for lunch at Muglin Bazaar
In Kathmandu we shared a room with Stu in the New Corner Lodge and arranged a visa extension until February 27th. On February 3, from our observation post in Durbar Square, we saw the Chinese leader Deng Xiaoping being shown around Kathmandu, for which even the 'living goddess'" was leaning out of her window. When two days later we were told that the TopDeck bus was fully booked, we immediately decided to go back to Pokhara the next day.
That turned out to be a long day when, due to a broken gear, it took four hours before the bus finally left Kathmandu. On the bus we struck up a conversation with Ram, a member of the panchayat (village council) of Bhadaure Tamagi, out of Pokhara, who generated income for his village by occasionally bringing over some tourists. This was a one day hike there and one day back, and we decided to accept his invitation. After spending the night at the Meetjin Hotel in the city, Frans and I first walked to Lake Side in the morning to leave our excess luggage at the Trekkers Retreat Lodge.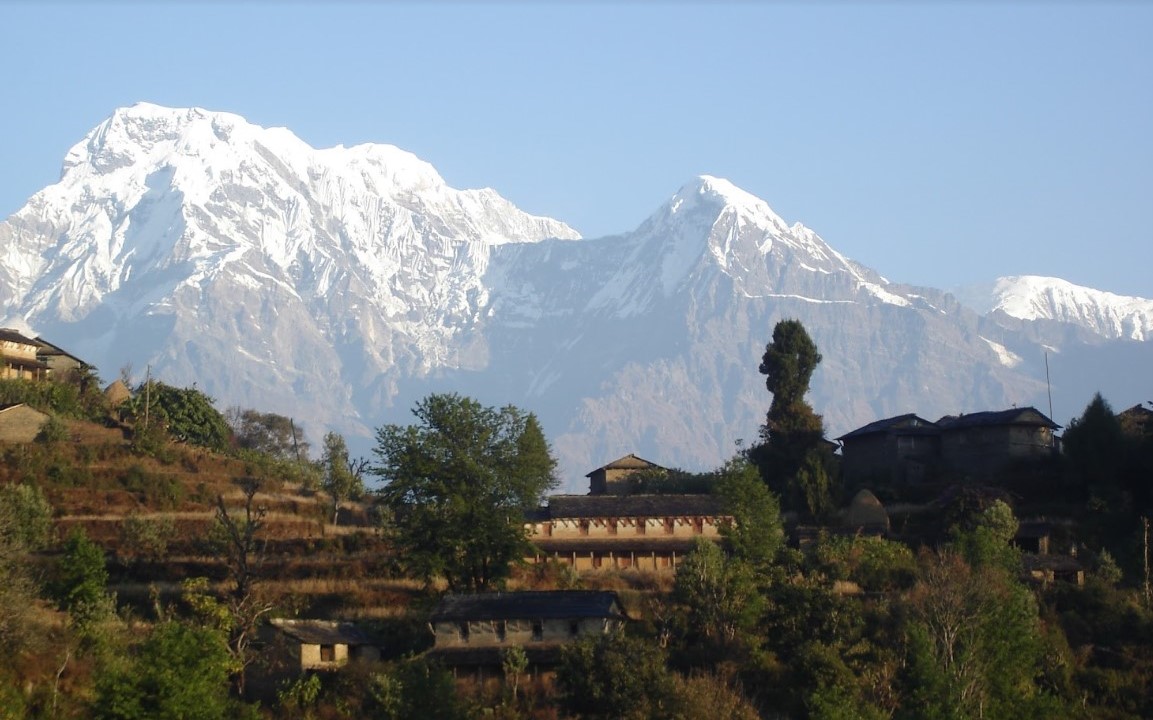 On our way there we ran into Dinesh who was on his way to school, in the company of Didi and Prem. They seemed surprised to see us again, and when we arrived at the Trekkers Retreat Mukut looked genuinely moved by our return. After taking a shower and packing the essentials for our trek we went back to Pokhara. There we checked in at the Yeti Hotel where Ram and his nephew were staying. In the evening we enjoyed a traditional Nepalese meal (dal bhat) and the next morning, 7 February, we took off early for Tamagi. As a boy from the Dutch polders I wasn't very comfortable with all the climbing and descending, so I was relieved when we finally arrived at 7pm. The next day the village offered a vantage view of the Annapurna range, which looked even more impressive from here. (Image: Google Maps).
On February 8 Frans and I arrived back in Baidam on the far side of the lake via a different route from Bhaudare Tamagi that Ram had pointed out to us. In retrospect it was a good thing I didn't go on longer hikes, because after two days of modest climbing and descending, the sole of one of my mountain boots was already coming loose. Mukut had no room available when we arrived, but he offered to put us up in the 'dormitory' for two nights. This turned out to be the room where he and his family lived. After two nights in the dorm, Frans and I were back in 'our' room (No.7).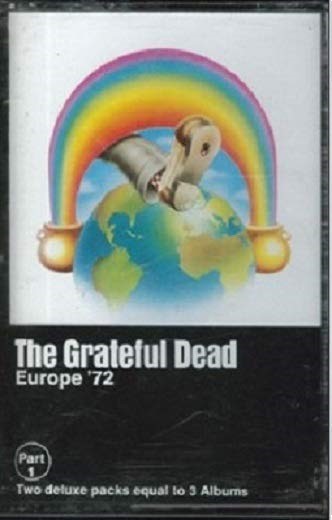 Many of the 'usual suspects' were back (or still) staying at the Trekkers Retreat Lodge and although Ken and Marianne were leaving the next day, Tom, George and Deborah were expected back from their trek. There was a happy sense of community and from the beginning one album (on two cassettes) had been the soundtrack of this experience for everyone: Europe '72 by the Grateful Dead. This was played over and over every day and the first few days after our initial arrival I just didn't 'get' the music. (If you don't know the Dead, click the cassette cover to experience what happened to me.) But after so many weeks I was definitely a fan and very curious about their other albums. Jefferson Starship's Red Octopus and Steve Miller's Book of Dreams were two other frequently played cassettes.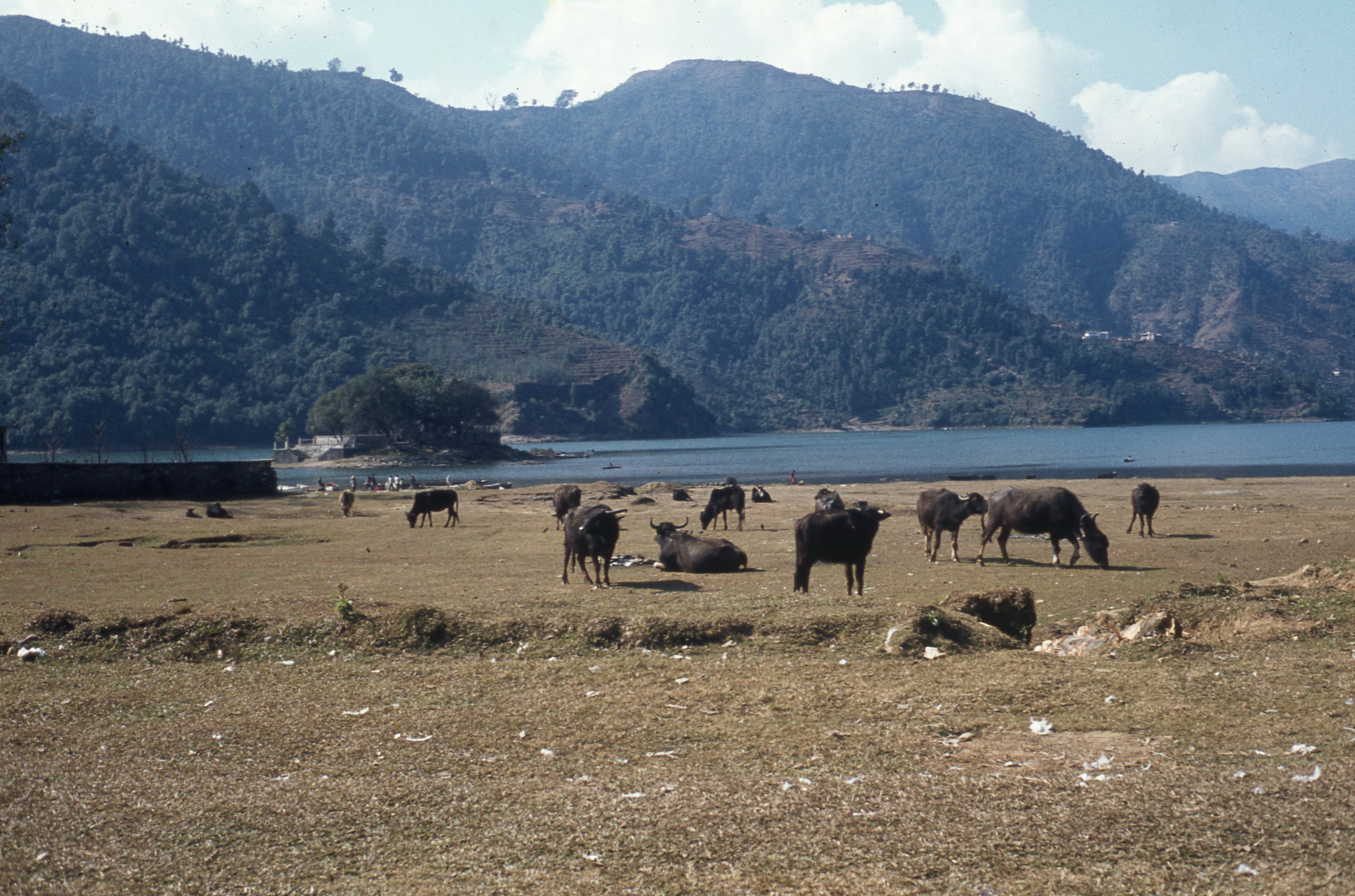 View of Lake Phewa near the end of Lakeside Road, with the Barahi temple island centre left (Photo: Cor Kroon/Gerard Aartsen)
Click here for the same view in 2020.
After so many weeks at Lake Phewa, with the occasional trip to 'the city' (ie Pokhara and, on one occasion, Kathmandu), life had taken on a regular routine, with familiar faces and voices, and the now familiar environment with the undulating green lake and the unparalleled mountain panorama. The days were filled with reading, washing or mending clothes, writing letters, walking, eating, smoking and enjoying the music, talking, playing cards (I've never played solitaire so many times in my life since), thinking about how you'll ever fit back into your old environment, and what I would like to do there. It's not that I never got bored, but the simplicity and stillness of country life in this extraordinary landscape, interrupted only by the roar of a diesel engine when an occasional truck, or a bus with new travelers and 'trekkers' passed by left one in no doubt what a unique experience this was.
The night before our departure, we exchanged information with Tom about our likely hotels in New Delhi; he was also leaving in a few days and we would try to see each other again during his stopover there.