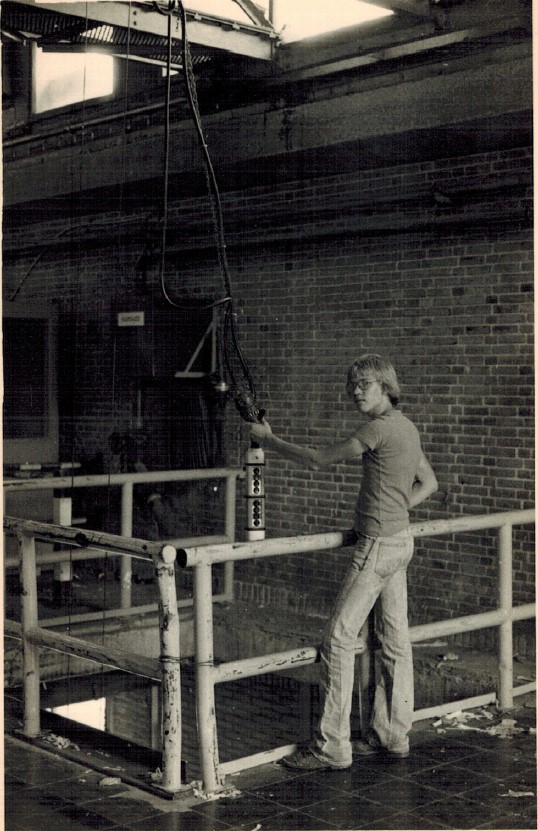 In June 1977, I was 19, I graduated from grammar school (Dutch: atheneum), after I was made to repeat the fourth grade because I spent more time on Striprofiel, the comic fanzine I wrote and published with Peter de Wit, than on school work. After graduating I first wanted to spend some time in the Faroe Islands, between Scotland and Iceland, but when I heard that my friends Cor and Frans were going to travel to India overland in October I asked if I could join them. India was somewhere on my list of countries I wanted to visit, but I didn't see myself doing that alone anytime soon. My father didn't seem impressed with my plans and was skeptical if I would even go through with it; my mother worried about everything so her reaction was not unexpected either.
So for me the choice for India and Nepal was not motivated by the stories about good hashish – of which I'd had my first experience earlier that year* – or to find a guru or enlightenment, but merely a matter of opportunity. (And, of course, we had no idea that within two or three years our route would become impassable due to the Islamic Revolution in Iran and the Soviet invasion of Afghanistan.) I hoped the journey and the experiences would help me figure out what life was all about and what I would do with it after school. In June I had started a summer job working shifts at the local paper mill (Van Gelder Papier, Wormer), which helped me save enough money for the journey.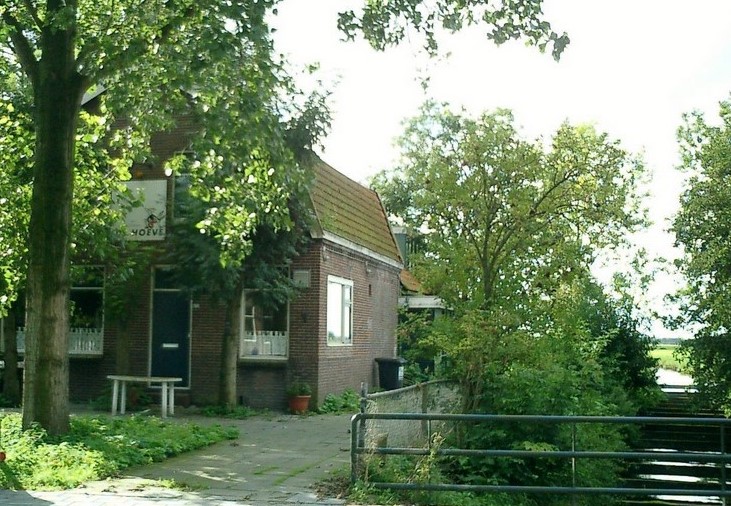 I had known the brothers Cor and Frans Kroon for quite some time through our village youth association (AJV, located at Dorpsstraat 656) where we met almost weekly. The AJV offered courses, had a monthly arthouse film evening, and bands performed there regularly, but it mainly served as a bar for alternative youth and all three of us regularly volunteered as bartenders. Cor lived in a former bull sty behind the AJV building, which he had converted into what we would now call a 'tiny house'. Later Frans lived there for some years.
Dorpsstraat 656, with the AJV building behind the farmhouse (Photo: Google Street View 2004)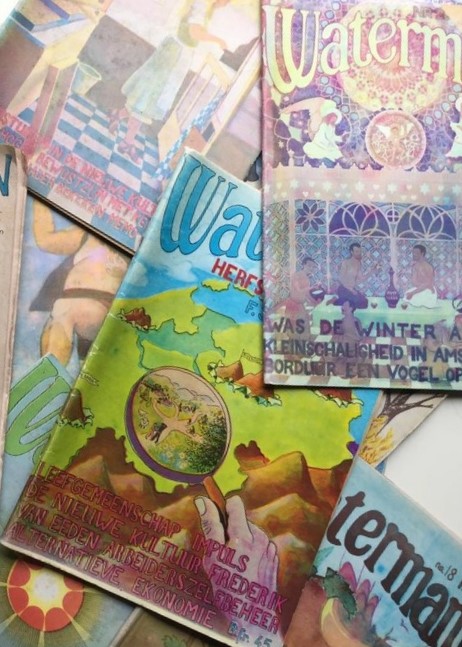 Cor was the oldest of us three and had 'been around' – he listened to world music before it was called that, read Waterman ('Aquarius'), the magazine published by eco community De Hobbitstee in Wapserveen, as well as the magazine published by eco community De Kleine Aarde in Boxtel. He had also previously made an epic hike to the Caucasus with a travel companion, about which they wrote regular reports in a regional weekly newspaper. (During our trip to India, though, Cor admitted that despite their colourful reports they regularly traveled long distances by train.)
We agreed in advance that setting out together did not mean we would necessarily stick together for the entire journey. Inspired by Tintin in Tibet, Cor wanted to see Kathmandu and had no fixed plans after that. Looking back, Frans was probably seeking distraction from his melancholy. And for me, my daily school routine had fallen away. Despite the dutifulness, I had a good time in school, especially in my final years when I was more concerned with designing a world system that didn't revolve around money (ambitious, much?)** than with the discoveries and insecurities of the teenage years, which I deftly avoided. Thus, for me this journey was an excellent opportunity to face the unknown (myself?).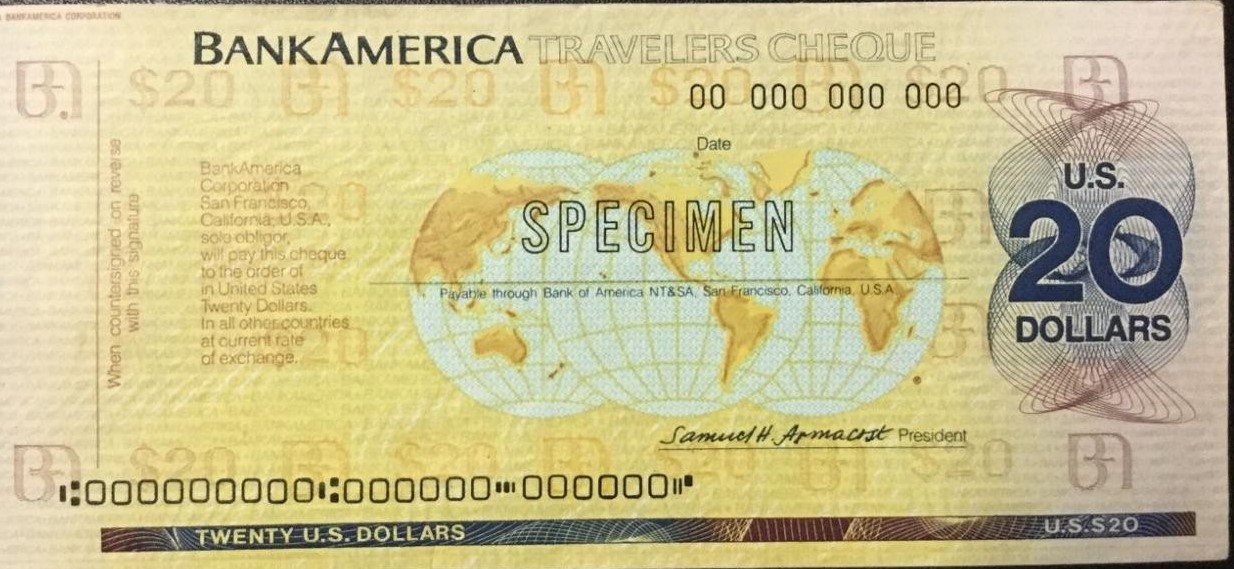 I wanted to travel as light as possible, so I bought a barracks bag at Loe Lap's, a well-known army dump store, and a down sleeping bag with an extra waterproof outer cover plus mountain boots at Carl Denig's, both in Amsterdam. My clothes and other essentials would go in the satchel, and my sleeping bag would be tied underneath. The mountain boots could be hung over this cunning construction with the laces tied together. Because debit cards and ATMs did not yet exist and credit cards were not widely available or accepted, I brought the bulk of my savings, some 2500 guilders, in the form of Bank of America traveler's checks, purchased at the local Raiffeisen-Boerenleenbank.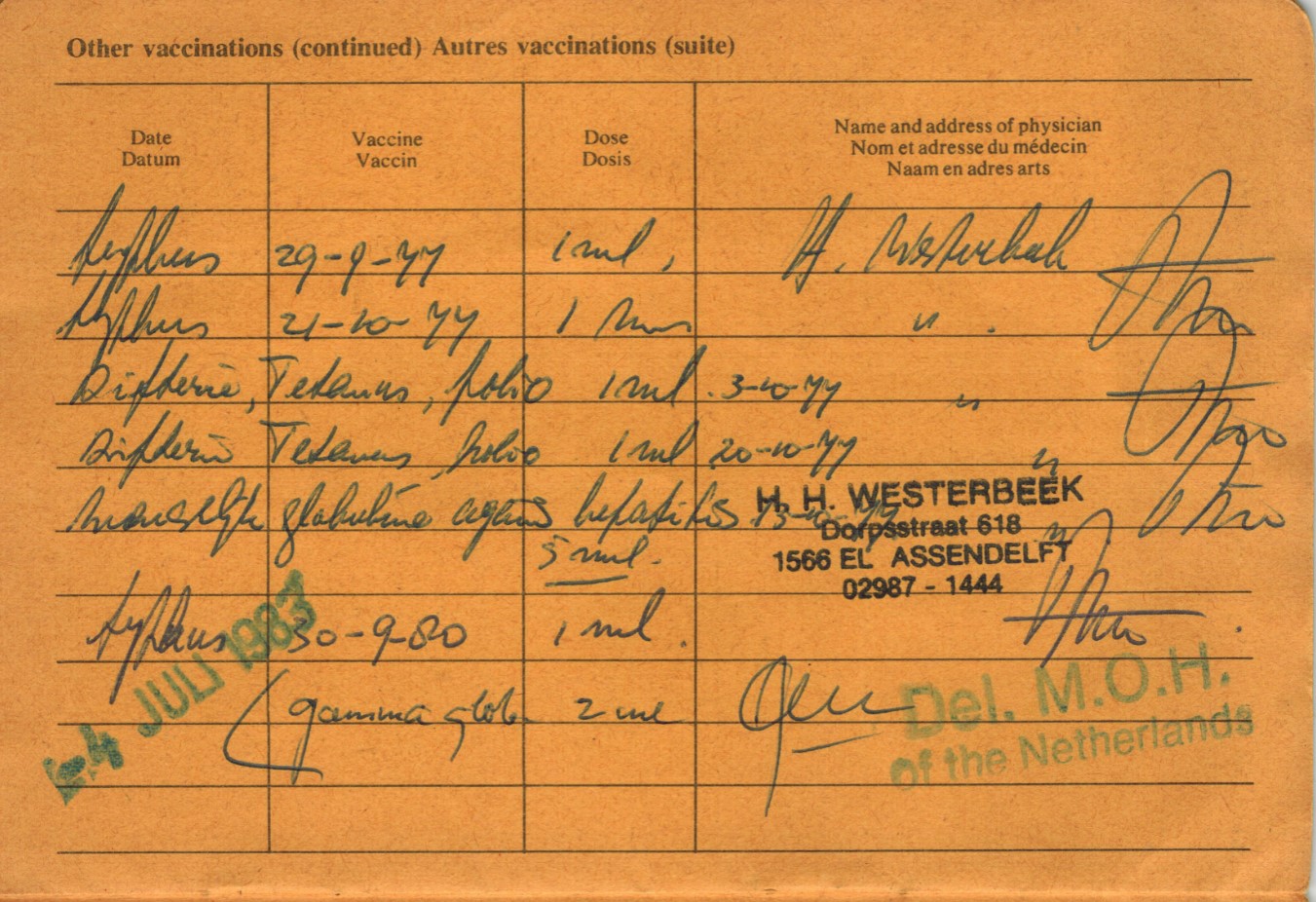 On September 15th I went to my GP for my first vaccination (against chickenpox) and on October 21st I received the last vaccination (against typhus) for a total of eight. Without a vaccination passport (right) you couldn't get very far on the route to India, unless you were prepared to get vaccinated at some border crossing with an injection needle that might or might not have been sterilised. We also brought malaria tablets (once a week) and water purification tablets, but once in India we stopped using them.
The notes on which this blog is based are more like a description of my experiences and impressions in some places or at certain times than of the places we visited – indeed, the journey was more important than the destination. When I began writing my blog and got in touch with Cor again, he reminded me that he still had many slides of our trip, which I had completely forgotten about. Unfortunately, during his return journey six rolls were stolen from him in Kathmandu, which is why there are no photos of our journey from Amsterdam to Pakistan. In some cases I have gratefully used the photos taken by other travelers in the same period, where possible with appropriate credits.
Don't forget to bring: a candle, matches, piece of rope, pocket knife, toilet roll, Sunlight soap, spare pair of glasses and passport photos for visas.
---
* See also the first of my closing remarks.
** Many years later I accomplished this to some degree in my book Priorities for a Planet in Transition (2015).