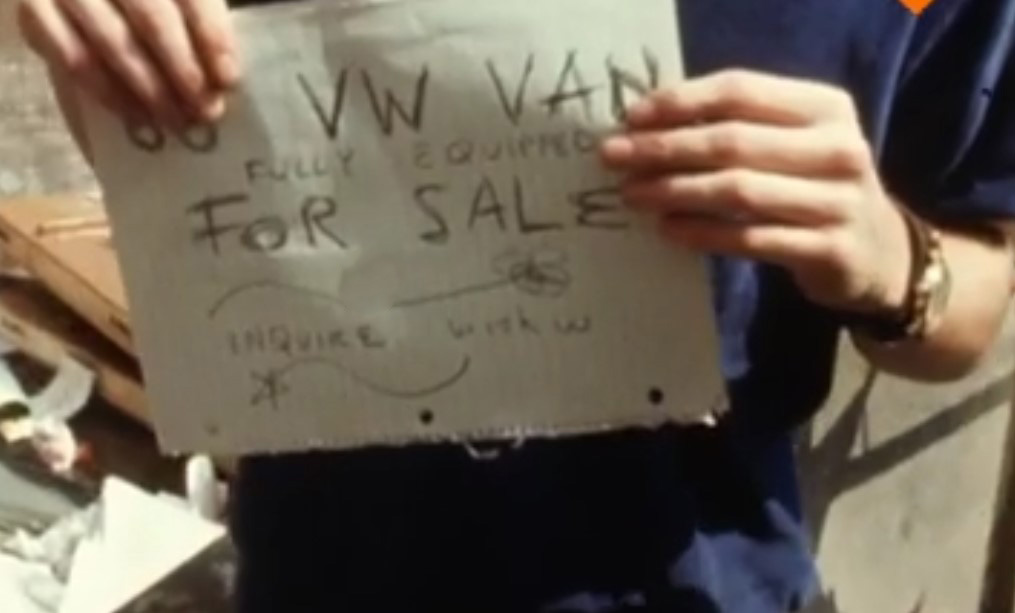 In Amsterdam I had often seen travellers on Damrak who had returned from India trying to sell clothes, jewelry and/or the van they drove back in to pay for their return ticket to London, the US or Canada. Frans was the only one of us with a driver's license for motorcycles and we intended, like many others, to be travelers, not tourists. So we didn't book an organized trip from Amsterdam to Kathmandu by Magic Bus or Budget Bus, but went hitchhiking to Istanbul and continued from there travelling on local buses for a better chance of getting to know the peoples and their cultures along our route. However, that commendable aim would prove rather naive. (Image: Andere tijden)
In previous years I had done a lot of hitchhiking around the Netherlands and in Great Britain, and I agreed with Cor that it was useless to try and hitchhike across Europe with the three of us. So Frans and I left on Monday, October 24 – Cor had traveled ahead a week earlier. We had arranged to meet at the Pudding Shop in Istanbul. Being a lover of desserts, I liked the sound of that.
To give ourselves a head start, Frans and I took the train to Cologne, from where we started hitchhiking. After a long wait, the first lift brought us to a youth hostel in Ulm. The next day we came to just before Munich, which we finally managed to exit by tram and bus after many queries. From Munich it took us a day and a night to reach the Austrian border, and three encounters with the Polizei. Our second night in Germany was spent in a dry ditch along the Autobahn. In the middle of the night we were woken up by the police who came to make sure we were not a couple of dumped corpses. I woke up in the morning with my feet in a puddle because the water-resistant outer cover had given in to the rain. Just before the border we were sent away from our hitching spot on the Autobahn by the police twice and because next time we would be fined DM20 each, we made the best of a bad bargain and walked back to before the junction. On our second day, in Ulm, the shoulder strap of my satchel had already given out, so I was now juggling my satchel, my sleeping bag, my mountain shoes, and a plastic bag with some provisions.
The next day two Turkish migrant workers in a van offered us a ride, along with a German hitchhiker, if we would pay our share of the petrol costs. After our strenuous hitchhiking attempts in Germany this was an offer we couldn't refuse. Via Salzburg we crossed the border with Yugoslavia at Sentilj (now Slovenia). During the nighttime drive via Belgrade, where we tore through thick fog on the winding two-lane road, we were regularly overcome with doubts whether we would survive this, given all the stories about drunken Yugoslav drivers we had heard. Due to the stress, and the Turks who also liked my handrolling tobacco, I had only three of the five packs of tobacco left when we arrived in Nis, in the south of Yugoslavia (now Serbia). Here, Frans and I decided to travel onward to Greece by train, because we didn't have a visa for Bulgaria, which cost a whopping 40 guilders.
It was a hot day in Nis and while waiting at the railway station we felt we deserved a beer after our nerve-wrecking nightly lift. Unfortunately, the Yugoslav beer was not only nearly as warm as the weather but it also had a chocolatey aftertaste – a slap in the face. The train for Thessaloniki left at 3am and our German fellow hitchhiker gave me a note from a college friend for his brother in Thessaloniki, in case we could drop it off.
After we arrived in Thessaloniki, at 1 o'clock in the afternoon, we immediately tried to get a lift to Istanbul, but in vain. In search of a youth hostel that proved untraceable, we came close to the address on the note the German guy had given me. It turned out that two Kurdish students lived there who bade us a warm welcome. After we had a nice hot shower they asked us if we were hungry. We were then treated to a whole grilled chicken, fries, baguette and half liters of Amstel beer. They also let us roll out our sleeping bags on the floor and stay overnight. I had never encountered such hospitality from complete strangers before. We exchanged addresses, but unfortunately we have never been in contact again.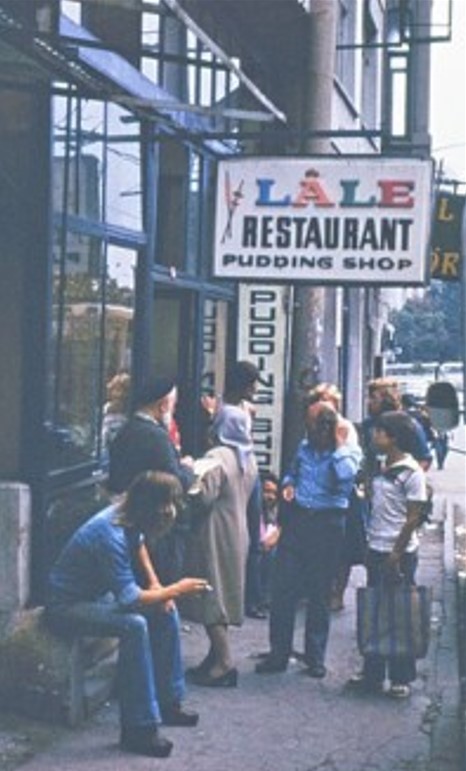 With the help of our Kurdish friends we got on the bus to Istanbul, even though it cost 700 dinars (or was it drachma? 50 guilders in any case, wiping out the money we saved on a visa for Bulgaria). On Sunday, October 30, Cor almost passed us by when we were waiting for him in the Pudding Shop. It was actually called Lâle Restaurant and served as a stopping place for travelers along the route from London to India and vice versa. There, tips and stories were exchanged and you could find transport to Tehran and beyond or back to Europe via the bulletin board.
The Pudding Shop in 1977 (Photo: Colin Clews)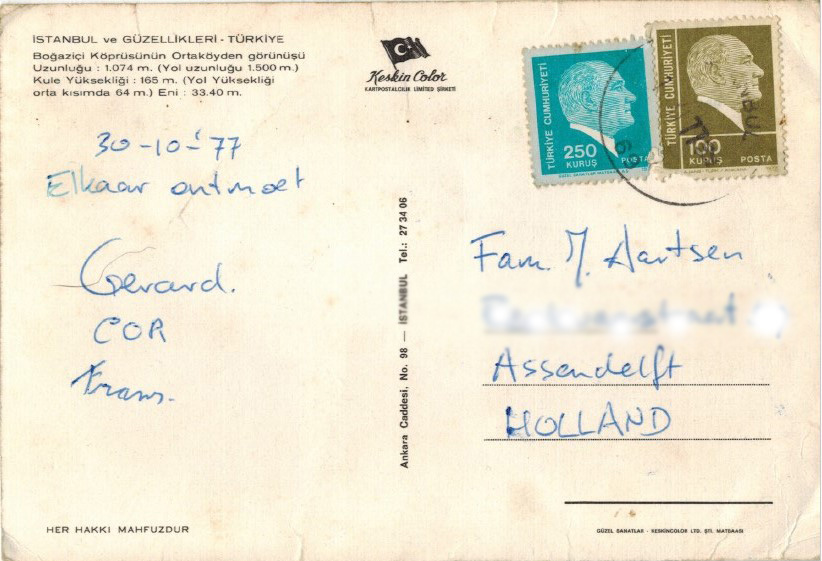 Postcard for the homefront saying "Reunited. -Gerard, Cor, Frans"
Istanbul was my first experience of the 'exotic', with the contours of the Hagia Sophia and the Sultan Ahmed (Blue) mosque, the prayer calls, people who looked different, the bustle of people transporting furniture on their backs and the horse-drawn carriages alongside cars, the bazaar – it really felt like "the gateway to the East". But how dirty and shabby it looked to my inexperienced eyes!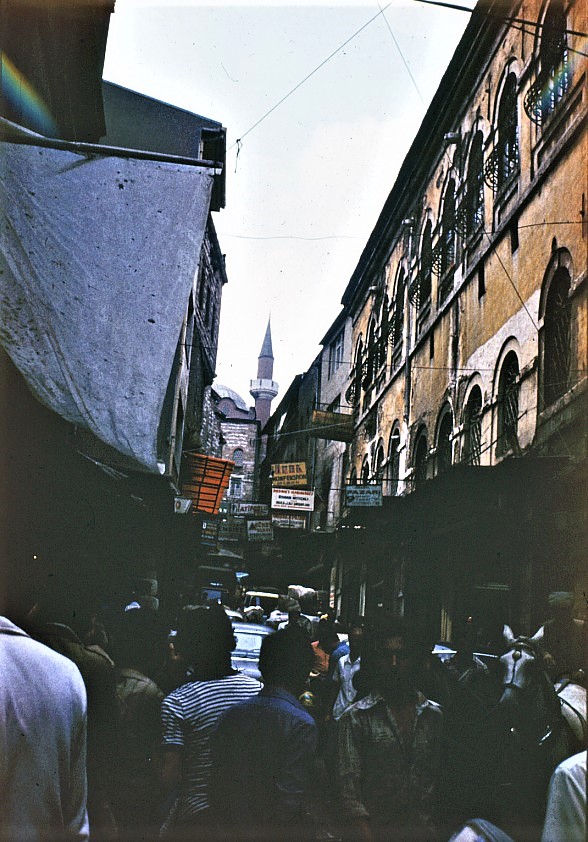 Right: Street scene in Istanbul, 1977 (Photo: Colin Clews)
As we didn't want to be 'tourists' we chose not to visit the Hagia Sophia and the Blue Mosque. Arrogance has many faces and with the benefit of hindsight I see that I regularly ran into the limits of my limited horizon during our trip. Still, these stupidities did not detract from the "lifetime experience" that this trip would turn out to be, but it was a missed opportunity nonetheless.
In Istanbul we shared a room at Hotel Liz with an English guy who had been stuck in Istanbul for 11 days because he didn't have enough money to be allowed into Greece. In the city we also ran into the Australian travelling along the trail by bike, whom Frans and I had met earlier at the Turkish border.
In the evening we were in a tea house outside the bazaar, where three Turkish men asked us for our handrolling tobacco and offered to mix it with some "natural Turkish". As green as I was, I was just curious how that would taste. We were asked what we did for a living – Cor was a carpenter, Frans a metal worker, and I didn't know yet, so I stuck to 'student'. When we asked what the men's jobs were, they told us: taxi driver, carpet dealer and ... police official. Suddenly Cor and Frans were visibly worried and wanted to leave quickly, even thought I didn't quite understand the rush.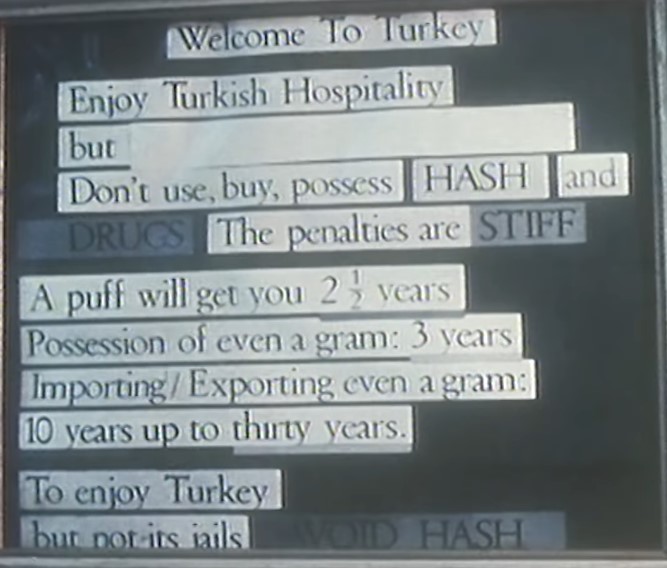 It wasn't until we got outside that I noticed how stoned we were. Cor said he knew what they had meant by "natural tobacco", but we didn't know at the time that one of them was a police official. When he found out, he was concerned that the friendly smoking experience might be a trap to trick us out of our money for this "offense," or worse. The film Midnight Express wasn't out yet, but the stories about corrupt Turkish police officers, severe sentences, and inhospitable Turkish prisons were well known. Despite some problems while steering our bodies back to the hotel, and several bouts of near-uncontrollable laughter, we arrived there unscathed, but with pounding hearts.
Travel advisory: "To enjoy Turkey but not its jails AVOID HASH"